Yemen
Yemenis commemorate victims of recent bomb attacks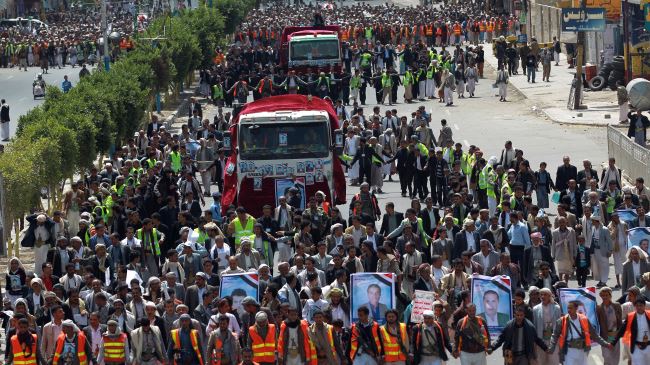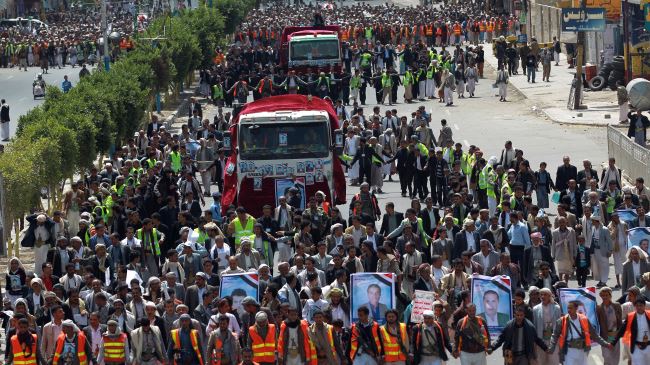 Thousands of people have staged a funeral procession in Yemen for the victims of the recent bomb attacks in the violence-plagued Arab country.
In the capital Sana'a on Tuesday, the participants held pictures and carried the coffins of victims killed five days ago in a bombing, while chanting slogans against the United States and Israel.
At least 43 people, including children, were killed and scores more wounded on October 9, when a powerful bomb ripped through the Yemeni capital. The attack targeted anti-government protesters in Tahrir Square in central Sana'a.
Another bomb attack struck the port city of Mukalla in Hadhramaut Province later in the day. The attack in Mukalla, situated some 900 kilometers (559 miles) southeast of Sana'a, killed 20 soldiers and wounded 15 people.
Although no group claimed responsibility for the attacks, it is widely suspected that al-Qaeda's wing in Yemen is responsible for both bombings. The terrorist group has previously carried out bomb attacks targeting Yemeni Houthis and other revolutionaries.
The leader of Yemen's Ansarullah movement, Abdul-Malik al-Houthi, has warned the nation against foreign plots that aim to keep the country divided and unstable.
Noting that certain foreign countries are hatching plots to keep Yemen in an unstable situation, al-Houthi urged the people of south Yemen on Sunday to refrain from depending on foreigners to solve their problems.
He further condemned the recent deadly terrorist attacks in the country, which left dozens of people dead, blaming them on foreign elements.