Yemen
Yemenis demonstrate in support of Ansarullah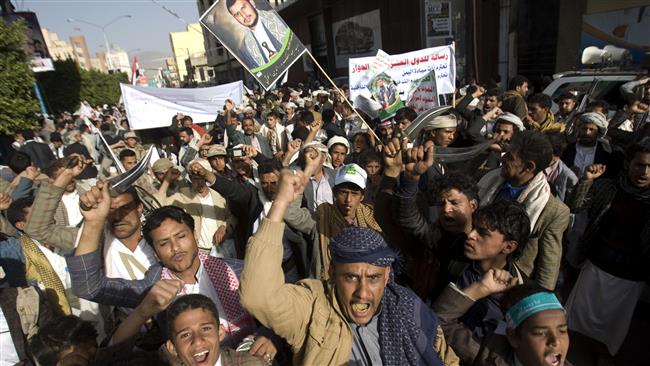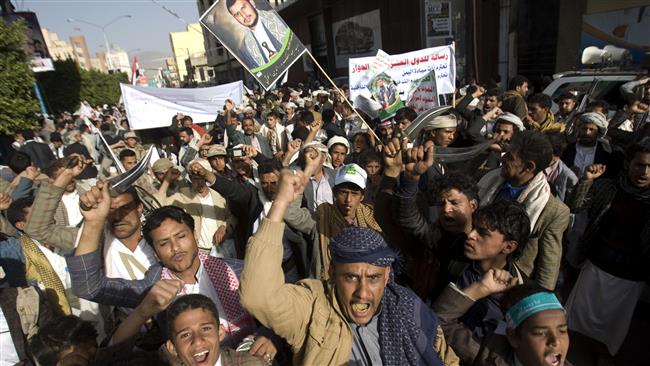 Hundreds of people have taken to the streets in Yemen to express support for the Houthi Ansarullah movement and the establishment of popular committees amid political turmoil in the country.
On Friday, protesters staged a demonstration in the capital, Sana'a, to voice support for a constitutional declaration by Ansarullah, which calls for all parties to participate in Yemen's politics.
The participants also lambasted the United States and Saudi Arabia for meddling in the internal affairs of Yemen.
The demonstrators also dismissed a plan by President Abd Rabbuh Mansour Hadi to relocate the capital to the southern port city of Aden.
A similar demonstration was also held in Aden on Friday.
On February 6, the Houthis released a constitutional declaration on the Transitional National Council, stressing that the movement will continue fighting corruption and try to improve the living conditions of Yemeni people.
According to the constitutional declaration, the Transitional National Council will be set up to elect the presidential council in a bid to end Yemen's political deadlock.
Ansarullah fighters say President Hadi is now being sought as a fugitive.
The Houthis said in a statement on February 24 that the Revolutionary Committee is monitoring the "suspicious" moves of Hadi, adding that he has lost "his legitimacy to act as president of" the Arabian Peninsula country.
Hadi and Prime Minister Khaled Bahah's cabinet resigned on January 22, after Ansarullah fighters seized the presidential palace in the capital. The parliament, however, rejected Hadi's resignation.
The Yemeni president escaped house arrest in Sana'a and fled to Aden on February 21.
On February 24, Yemeni media reported that he had sent a letter to the parliament a day earlier, withdrawing his resignation.
Hadi has met with several tribal and provincial figures in Aden to garner support against Ansarullah fighters, who took control of the capital following the failure of the Yemeni government to provide security and properly run the affairs of the country.
The Houthi movement played a key role in the 2011 uprising that forced the country's dictator, Ali Abdullah Saleh, to quit after 33 years in power.