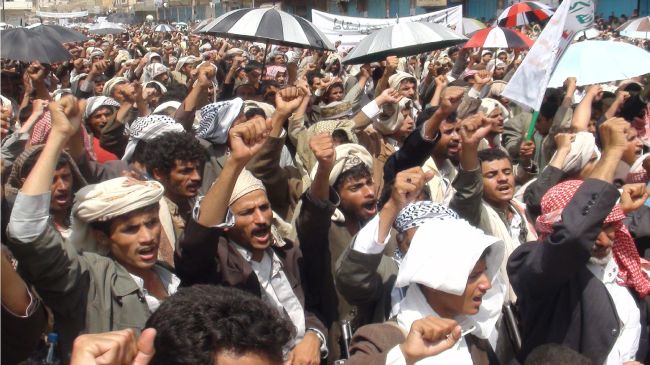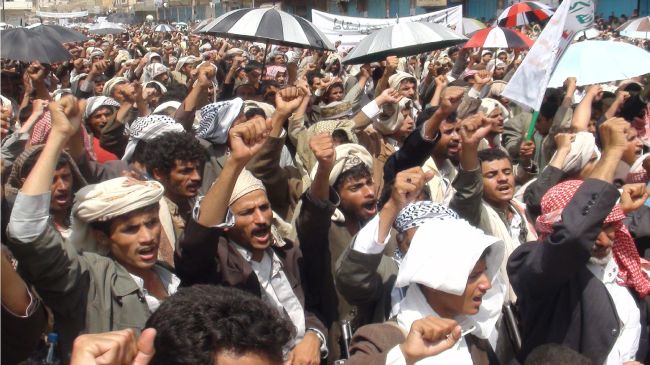 Tens of thousands of Yemenis have taken to the streets in the northern city of Sa'ada to protest against US interference in their country's internal affairs.
The demonstrators accused the US of hijacking their revolution by keeping in power some of the loyalists to the ousted dictator Ali Abdullah Saleh and granting the former ruler immunity under a power transition deal.
They said the US-backed transition deal, which ended Saleh's decades-long rule in November 2011, is far from the demands of their revolution and that they want their government to be cleansed of the former regime figures.
They also called for the prosecution of Saleh and his aides over the killing of thousands of demonstrators during a year of anti-regime demonstrations against his rule.
The protesters further expressed their anger over US assassination drone attacks in Yemen and called for the expulsion of American forces from their country.
At least two people were killed in a US drone attack in the eastern Yemeni province of Hadramawt on Friday.
Washington uses its assassination drones in Yemen, Pakistan, Afghanistan, and Somalia, claiming that they target the terrorists. The attacks, however, have mostly led to massive civilian casualties.
The United Nations has censured the US drone attacks as targeted killings, stressing that the raids flout international law. Reports, however, say that the CIA is seeking to expand its covert drone attacks in Yemen.