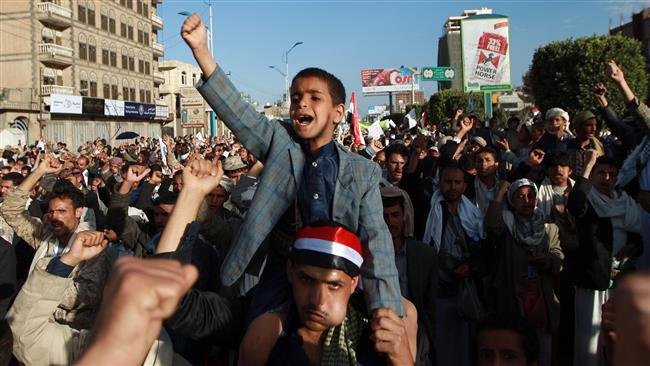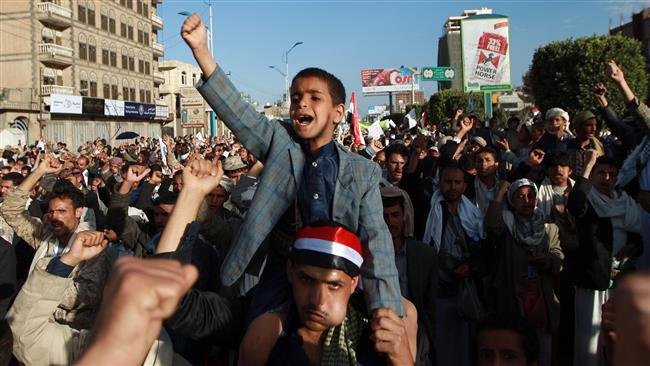 People have staged a rally in Yemen's capital to express their support for the Ansarullah revolutionaries of the Houthi movement condemning the intervention of Saudi Arabia and the United States in their country's internal affair.
Yemeni demonstrators took to the streets of Sana'a on Friday, holding placards and posters of Ansarullah leader Abdul-Malek al-Houthi.
The protesters vowed to continue with their struggle against corruption as well as their support for the decisions taken by popular revolutionary committees formed to bring the crisis-hit country back to order.
They also condemned the intervention of Saudi Arabia and the United States in Yemen's internal affair.
Meanwhile, a counter-rally was held in the main square of the southern city of Taizz, where participants showed solidarity with former Yemeni President Abd Rabbuh Mansour Hadi.
Hadi, along with the cabinet of Prime Minister Khaled Bahah, stepped down on January 22, but the Yemeni parliament didn't approve the resignation.
The Yemeni president left his home in Sana'a on February 21 after weeks under effective house arrest and went to Aden, where he officially withdrew his resignation and highlighted his determination to resume duties.
He also called on the Ansarullah revolutionaries to relinquish power and leave Sana'a. The Houthis, however, said that Hadi had lost his legitimacy after escaping Sana'a.
In September 2014, Ansarullah movement gained control of the capital following a four-day battle with army forces loyal to General Ali Mohsen al-Ahmar, the half-brother of the country's former dictator, Ali Abdullah Saleh.
Before gaining control of Sana'a, the Houthis had set a deadline for the political parties to put aside differences and end the crisis, but the deadline was missed without any change on the country's political scene.
A few months later, they dissolved the parliament and announced a constitutional declaration on the Transitional National Council following weeks of clashes with government forces.
The Ansarullah revolutionaries say the Yemeni government has been incapable of properly running the affairs of the country and providing security.