Middle East
North America
Saudi Arabia
Yemen
Yemen's al-Masirah TV publishes documents disclosing US interference in Arab country
A Yemeni television network has published a number of classified and top-secret documents from the United States' diplomatic mission in the Arab country, which reveal Washington's interference in the internal affairs of the Arab country since many years ago.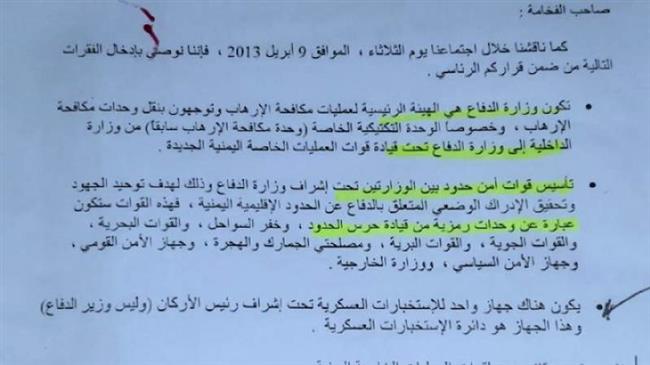 The US embassy's documents were publicized by the al-Masirah television network before the September 21 Revolution – the 2014 popular uprising that toppled the Saudi-backed government of former Yemeni president Abd Rabbuh Mansur Hadi, and included directives from previous American ambassador Gerald M. Feierstein to the Presidency on transfer of the so-called "anti-terrorism units" from the Ministry of Interior to Defense Ministry.
The leaks also exposed US directives on limiting the role of the units to security forces guarding the Yemeni land and maritime borders.
Furthermore, the US embassy's documents ordered that presidential decrees be issued immediately for the appointment of a number of military commanders in various ranks, including a new commander for the Yemeni special operations forces, his deputy, and the deputy chief of the General Staff.
Separately, the documents issued by Yemen's National Security Bureau (NSB) at the time revealed the US' leading role in and its close supervision over destruction of Yemeni air defense systems, chiefly Strela short-range and surface-to-air missile system (SAMs).
The files disclosed that the American side had directed its activities towards serving the interests of the US national security, with complete disregard for Yemen's interests.
Earlier this year, a Yemeni security source said the United States had destroyed the country's air defense missiles during the reign of slain Yemeni president, Ali Abdullah Saleh, over allegations that the weapons would fall into al-Qaeda hands in case the then Yemeni administration was toppled.
The unnamed source told Yemen's official Saba news agency on February 27 that an American delegation, which was comprised of Program Manager in the Office of Weapons Removal and Abatement (PM/WRA) with the Department of State's Bureau of Political-Military Affairs, Dennis F. Hadrick, liaison officer Santo Polizzi, technical expert Niels Talbot, Deputy Director of Programs in the Bureau of Counterterrorism and Countering Violent Extremism at the US Department of State, Laurie Freeman,  and the military attaché at the US embassy in Sana'a, held meetings with Yemeni Ministry of Defense officials at the time to pressure them to hand over the missiles in preparation for their complete destruction. Their demands were initially turned down though.
The source added that Brigadier Ammar Mohammed Abdullah Saleh, a nephew of Saleh and then deputy director of the National Security Bureau, was then tasked with persuading Yemeni military officials to agree to the surrender and annihilation of the air defense missiles in exchange for hefty sums of money.
This document, issued previously by the United States' diplomatic mission in Yemen and published by the Yemeni Arabic-language al-Masirah television network on September 24, 2020, purports to prove that Washington secretly interfered in the Yemeni internal affairs.