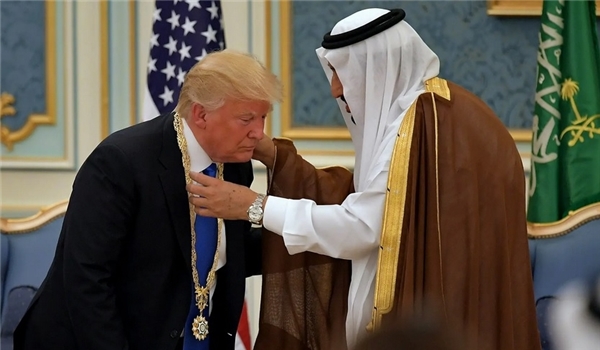 US President Donald Trump once again humiliated the regime in Riyadh, saying he likes the leader of Saudi Arabia, but Washington is protecting King Salman bin Abdulaziz Al Saud and his son Mohammad bin Salman (MbS), therefore the oil-rich kingdom should pay more money.
"Look, Saudi Arabia, very rich country, we defend them, we subsidize Saudi Arabia. They have nothing but cash, right? We subsidize them. And they buy a lot from us, $450 billion they bought," Trump said during a rally in Wisconsin on Saturday.
"You know, You had people wanting to cut off Saudi Arabia. They bought $450 billion. I don't want to lose 'em! But the military, we subsidize Saudi Arabia!" the president added.View image on Twitter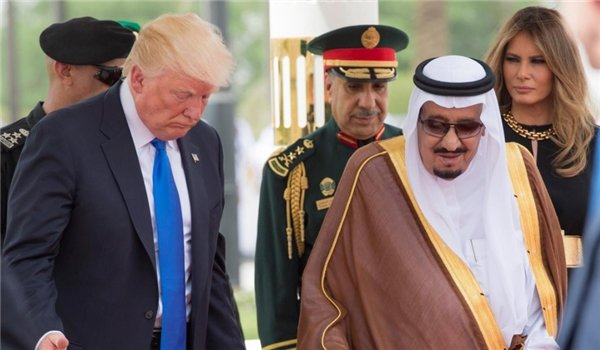 Despite the harsh rhetoric, the US administration has maintained a close relationship with Saudi Arabia, which it sees as a bulwark against Iran's rising influence in the region.
In his first overseas trip as president in May 2017, Trump sealed an arms deal with Saudi Arabia worth $350 billion over 10 years, with nearly $110 billion to take effect immediately, despite warnings that he could be accused of being complicit in the regime's war crimes in Yemen.
Even after public pressure mounted on Washington to halt arms sales to Riyadh over the murder of journalist Jamal Khashoggi by the kingdom agents in Turkey, as well as the CIA's declaration over MbS' key role in the writer's brutal killing, Trump stressed that the United States would be "foolish" to cancel arms deals with Saudi Arabia, noting that the crown prince "could very well" have known in advance about the plan to kill Khashoggi, but the US will remain a "steadfast partner" of Saudi Arabia.
"I called the King," he continued on Saturday's rally, adding, "I like the King. I said 'King, we're losing our ass defending you, King, and you have a lot of money'. That's true."
"And he said 'but why would you be calling me, nobody has ever made such a call before'. I said that's because they were stupid! So we're working a deal with Saudi Arabia. So many places. So many places. I tell you what, honestly, it's easier than collecting $113.57 from a tenant in a bad location in New York City. And it's safer too," Trump said.View image on Twitter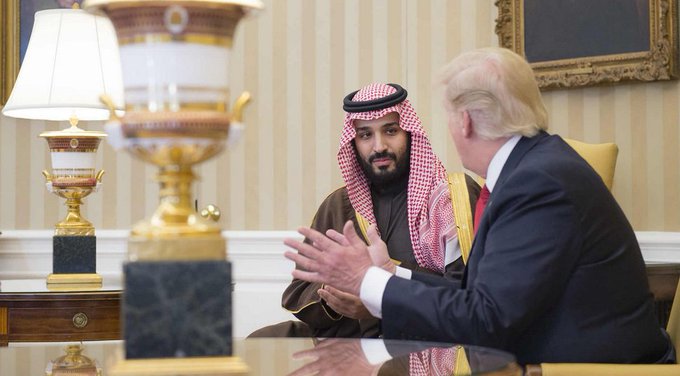 It's not the first time that Trump contemned King Salman over Saudis' power and stability, highlighted the kingdom's reliance on Washington and asked for more cash from Riyadh.
In October 2018, Trump announced that he has warned King Salman he would not last in power "for two weeks" without US military support.
"We protect Saudi Arabia. Would you say they're rich. And I love the King, King Salman. But I said 'King — we're protecting you — you might not be there for two weeks without us — you have to pay for your military,'" Trump said.
Earlier, the American leader called on Riyadh to increase its military spending, with an eye on more weapons sale to the "rich" kingdom.
Trump stressed that he had complained that Washington was not getting what it should from Saudi Arabia during a phone conversation with Salman, noting that he had told King Salman that Riyadh has "trillions of dollars" and could pay its military bills.
Before his presidency, Trump described Saudi Arabia as "a milk cow" which would be slaughtered when its milk runs out.
Analysts believe the US president is milking wealthy Persian Gulf Arab countries and exploiting conflicts in the Middle East to boost American arms sales to the oil-rich states.