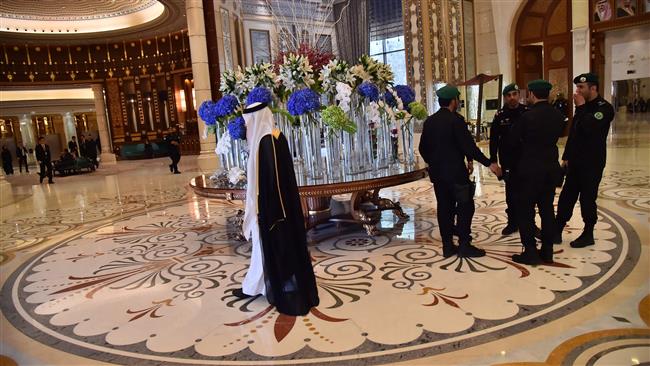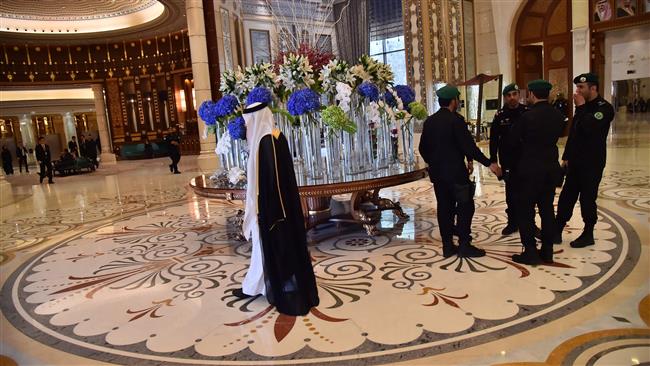 Saudi Arabia is likely to bag over $100 billion in monetary settlement deals with princes and businessmen detained as part of its so-called anti-graft purge, a senior government official says.
The official, who was speaking on condition of anonymity, told Bloomberg on Monday that the settlement payments were a combination of cash, real estate, stocks and other asset classes.
He also noted that only a handful of those held at Ritz-Carlton Hotel in the Saudi capital, Riyadh, would likely reach an agreement with the authorities, warning that the individuals who fail to come to a compromise would be referred to prosecutors.
Over 200 Saudi businessmen and royals were rounded up in November 2017 in an alleged "anti-corruption campaign" spearheaded by Crown Prince Mohammed bin Salman.
Observers said the campaign was actually meant to consolidate bin Salman's power and silence his critics. There have been reports of high-profile Saudi figures being beaten and tortured while in custody.
The purge sent shockwaves through Saudi markets, with reports saying many billionaires moved their assets out of the region to avoid getting caught up in the crackdown.
The Riyadh regime then began securing cash settlement deals with the high-profile detainees, receiving hefty amounts in exchange for their freedom.
Prince Miteb bin Abdullah, a son of the former Saudi king, was freed after reaching a one-billion-dollar "acceptable settlement agreement" with the authorities.
The Middle East Eye (MEE) news portal cited sources inside the kingdom's court as saying that former spy chief Prince Bandar bin Sultan was among notable businessmen and royals being held.
The Wall Street Journal also reported last month that the kingdom was pressuring al-Waleed bin Talal, a famous billionaire prince to pay up a whopping six billion dollars. Other reports suggested bin Talal had been subjected to torture in detention.
The Bloomberg report further cited Saudi Attorney General Sheikh Saud al-Mojeb as saying on Sunday that authorities had agreed to drop charges against about 90 detainees, who were released.
Some 95 others were still held at Ritz-Carlton Hotel, including five weighing settlement proposals, with the remaining reviewing evidence presented against them, he added. Earlier reports had, however, said the detainees had been transferred to a maximum-security prison facility.
"The royal order was clear. Those who express remorse and agree to settle will have any criminal proceedings against them dropped," he pointed out.
Al-Mojeb further denied reports of violation of the detainees' rights, saying all had access to legal counsel and some retained lawyers, while those released faced no restrictions on their movement.
Riyadh confiscates Mecca hotel
Separately on Monday, Qatari daily Al Sharq reported that the Saudi kingdom had confiscated Dar Al Tawhid Intercontinental Hotel, owned by Prince Abdul Aziz bin Fahd.
The 5-star hotel overlooks the Great Mosque of Mecca.
The prince was taken into custody as part of the alleged anti-graft campaign late last year.
He was initially thought to have been killed in a firefight while resisting arrest, but Saudi Arabia's Information Ministry later confirmed he was "alive and well." The prince's whereabouts are still unknown.
At the height of the clampdown, the Saudi crown prince, was linked to pricey art and real estate purchases, while overseeing the process and personally grilling some of the detainees, according to reports.
The Saudi crown prince reportedly used a minor member of the royal family as a 'proxy' to buy a record-breaking Jesus Christ painting by da Vinci at auction in New York.
Bin Salman reportedly used a "proxy" to buy Leonardo da Vinci's painting the Salvator Mundi, which sold for a record $450 million at auction, and a yacht for $500 million.
An investigation by The New York Times also named the crown prince as the owner of the Chateau Louis XIV, a mansion outside Paris, which was sold to him for more than 300 million dollars back in 2015.