Iran
Middle East
North America
Zarif: Blaming Iran Not to Help US, Clients Regain Popularity
Iranian Foreign Minister Mohammad Javad Zarif underlined that Washington's blame game will not help the US and its allies to get rid of their unpopularity in the region.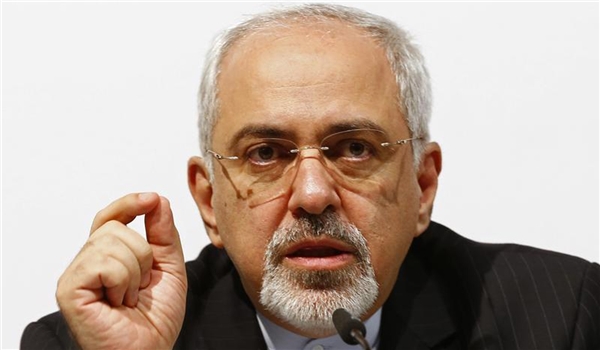 "Attempts by the US and its clients to portray Iran as a threat will not help them get rid of their unpopularity among people in the region which they described as the real cause of their safety concerns," Zarif said.
"The #B_Team is at it again: From announcements of naval movements (that actually occurred last month) to dire warnings about so-called 'Iranian threats'. If US and clients don't feel safe, it's because they're despised by the people of the region— blaming Iran won't reverse that," Zarif tweeted on Tuesday.
Earlier, elaborating on why he mentioned Team-B, including US National Security Advisor John R. Bolton, Israeli Prime Minister Benjamin Netanyahu, Saudi Crown Prince Bin Salman and Bin Zayed, he said that he wanted to make Americans be well aware of a reality which is based on documents and not mere threat and accusations.
In a relevant development on Monday, the Supreme National Security Council (SNSC) of Iran dismissed the recent remarks of the US Security Advisor John Bolton that Washington has sent an aircraft carrier and a bomber task force to the region to warn Tehran, describing the claim as a "gauche" attempt at psychological warfare.
SNSC Spokesman Keivan Khosravi spurned the remarks made by Bolton who "announced" the deployment of the USS Abraham Lincoln Carrier Strike Group and a bomber task force to the US Central Command region.
Bolton, who has spearheaded an increasingly hawkish US policy on Iran, said on Sunday that the deployment was a means of conveying a "clear message" to Tehran.
Citing surveillance information relayed by Iranian Armed Forces, Khosravi said the USS Abraham Lincoln Carrier had already entered the Mediterranean 21 days ago.
"Bolton's statement amounts to gauche recourse to an abortive development for psychological warfare [purposes]," the Iranian official noted.
"Bolton lacks understanding of military and security issues. His remarks are more intended to serve as braggadocio," Khosravi added.
He cited the precedent of the US military's sustained defeats in the face of regional crises, saying, "It is unlikely that the US military's commanders and main components would be inclined towards testing the Iranian Armed Forces' proven capabilities."
Bolton had said that the deployment was an alleged response "to a number of troubling and escalatory indications and warnings."
Last month, the United States designated the IRGC as a "foreign terrorist organization", marking the first time Washington has formally labelled another country's military a "terrorist group".
Responding to Washington's move, Iran immediately declared the US as "state sponsor of terrorism" and American forces in the region "terrorist groups".
Iran's top security body, the SNSC, in a statement issued on April 08 evening declared the United States a "terrorist government", and blacklisted the "CENTCOM and all its affiliates a terrorist group".
The SNSC – that is headed by President Hassan Rouhani – condemned Washington's move, calling it "an illegal and dangerous action" that poses a "major threat to regional and international peace and security and grossly violates the rules of international law".
The statement further condemned the US decision as "unlawful and unreasonable action" prompted by the Islamic Republic's regional influence and success in fighting against terrorists, and blamed CENTCOM for harming Iran's national security as well as ruining the lives of "innocent Iranian and non-Iranian individuals" to promote the US "aggressive policies" in West Asia (the Middle-East).
"The Islamic Republic of Iran regards this baseless move as a major threat to regional and international peace and security and a blatant violation of the compelling rules of international law and the United Nations Charter," Iran's top security body reiterated.