Europe
Iran
World News
Zarif Congratulates Johnson, Warns UK against Engaging in B-Team's Ploys
Iranian Foreign Minister Mohammad Javad Zarif congratulated his former counterpart, Boris Johnson, on becoming Britain's prime minister, and warned London not to engage in implementing the ploys of the so-called B-Team.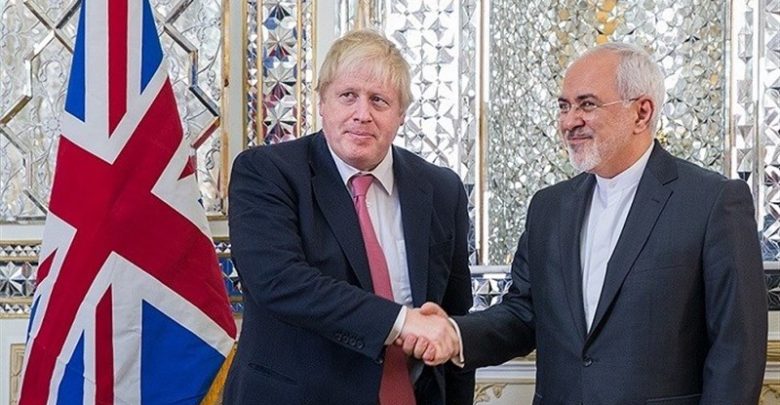 In a post on his Twitter account on Tuesday, Zarif congratulated the former mayor of London on winning the race to become the next UK prime minster.
He also took a swipe at the outgoing British premier's government for seizing an Iranian supertanker in international waters near Gibraltar, saying, "The May govt's seizure of Iranian oil at behest of US is piracy, pure & simple."
"Iran does not seek confrontation. But we have 1,500 miles of Persian Gulf coastline. These are our waters & we will protect them," Zarif underlined.
In a video attached to his tweet, Zarif is delivering a speech in Bolivia, saying, "We are responsible for the security and freedom of navigation in the Persian Gulf. That is our lifeline."
"It is much, much better for the United Kingdom not to engage in implementing the ploys of the B-Team. The B-Team is losing ground in the United Sates and now they are turning their attention to the United Kingdom," Zarif warned in the speech.
"I guess the same policies that failed in the US will fail in the United Kingdom," the top Iranian diplomat underlined.
The B-Team in Zarif's comments refers to a group of four anti-Iran hawks, including John Bolton, Israeli Prime Minister Benjamin Netanyahu, Saudi crown prince Mohammad Bin Salman Al Saud, and crown prince of Abu Dhabi Mohammed bin Zayed Al Nahyan.
Boris Johnson will become Britain's next prime minister after being elected leader of the Conservative party, defeating Jeremy Hunt in the party's leadership contest.
The former mayor of London, who has long cherished an ambition to lead his country, won the contest by a convincing margin of 92,153 votes to 46,656, with 66% of the vote. Turnout was 87.4% among 159,320 party members.