Iran
Middle East
Palestine
Zarif: Iranians won't be deceived by final machinations of intl. terrorists, Zionist warmongers
Foreign Minister Mohammad Javad Zarif has shed light on an anti-Iran psychological operation by the Saudi-Israeli-US axis that led up to the assassination of a senior nuclear scientist, saying Iranians will never by deceived by the final struggles of international terrorists and notorious warmongers.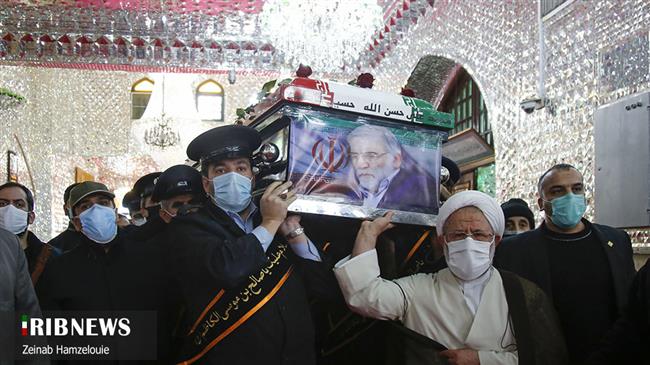 "The architects and advocates of the failed policy of maximum pressure [on Iran] are trying to use the final days of [US President Donald] Trump's regime to generate tensions and harm the environment created for the removal of repressive sanctions," Zarif said in a post on his Instagram account on Monday night.
Zarif highlighted US Secretary of State Mike Pompeo's recent tour of the region, his tripartite meeting with Israeli Prime Minister Benjamin Netanyahu and Saudi Crown Prince Mohammed bin Salman as well as Netanyahu's recent remarks, saying the developments are all indicative of such a conspiracy, which unfortunately came to light with the cowardly and terrorist act of assassinating one of Iran's top scientists.
"A counter-intelligence campaign and purposeful psychological warfare were launched in tandem with this terrorist act, in the delusive hope that the evil plans of Pompeo, Netanyahu and bin Salman to create tensions would materialize," the post added.
As soon as the news of Fakhrizadeh's assassination broke on Persian-language outlets on Friday, Israeli media were falsely cited as claiming that the scientist's name had been leaked to Israel's Mossad spy agency through UN lists, Zarif said.
"In fact, it is just the opposite," Zarif said. "The IAEA (International Atomic Energy Agency) was notified of Fakhrizadeh's identity in mid-2000s by the US and the Zionist regime, and his name was mentioned in the list of individuals subject to sanctions under the United Nations Security Council Resolution 1747 adopted on March 24, 2007."
Zarif said an analysis of keywords of the 10,000 tweets posted within the first few hours after the assassination shows that about 79 percent of them were aimed at provoking internal divisions, namely through opposition to the 2015 Iran nuclear deal as well as cooperation with the IAEA and related negotiations.
Only 21 percent of the remaining tweets were directed at the masterminds and perpetrators of the heinous crime, he said, using charts to present the data.
More interestingly, nearly 93% of such tweets had been posted from fake and anonymous accounts with a history of less than a year and were mostly of foreign origin, Zarif said.
Nevertheless, Iranian authorities and vigilant people will never be deceived by the last struggles of international terrorists and extremist Zionist warmongers, and will maintain their solidarity and unity in the face of the economic war being waged by Trump and his allies, Zarif said.