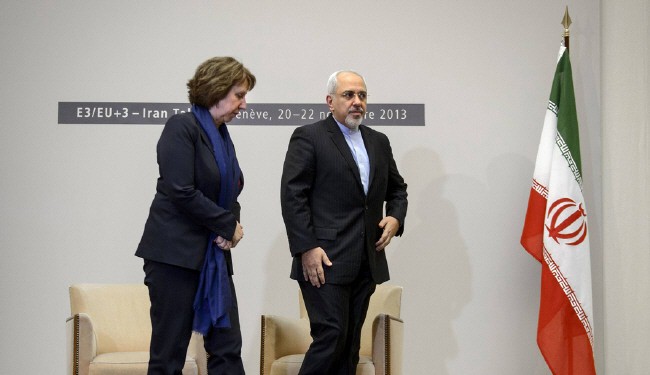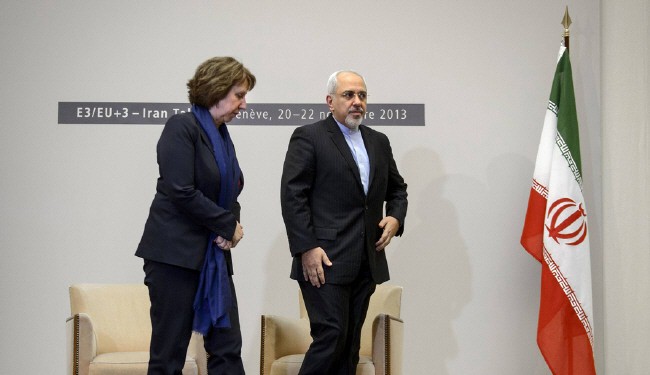 The second round of Friday meetings between Iran and major world powers over Tehran's nuclear energy program has started with both side reporting improvements in the intense negotiations.
EU foreign policy chief, Catherine Ashton and Iranian Foreign Minister Mohammad Javad Zarif held three meetings on Thursday and one meeting on Friday morning.
The meetings were adjourned for internal consultations, and the two sides started the second round hours ago.
During the break, Zarif told Al Alam reporter in Geneva that 90 percent of the issues had been discussed and agreements had been made in major issues.
Iran and the five permanent members of the UN Security Council plus Germany are working to hammer out an interim deal to pave the ground for the resolution of the West's decade-old standoff with Iran over its nuclear energy program.
The recognition of Iran's entitlement to enrich uranium for peaceful purposes remains one of the major sticking points in the talks.
Iran's Deputy Foreign Minister for International and Legal Affairs Abbas Araqchi, who is also a member of the Iranian nuclear negotiating team, said on Thursday that Tehran would not accept any deal that does not include the right.
The Iranian team says discussions have already delved into content and details.