Middle East
Zarif: PG can be zone for peace, cooperation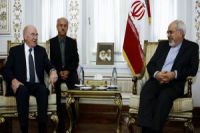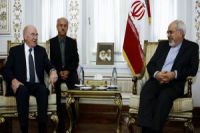 Iranian Foreign Minister Mohammad Javad Zarif says the Persian Gulf can be a zone for peace and cooperation, dismissing the presence of extra-regional forces as an inappropriate way of easing concerns over its security.
According to Press TV, Zarif said in a meeting with former French Foreign Minister Hervé de Charette in Tehran on Monday evening "The Persian Gulf can be a region for peace and cooperation. Nevertheless, it is not a proper approach regarding concerns that the region's security be ensured from outside."
He added, "The Islamic Republic of Iran devised a plan several years ago aimed at the collective security of the Persian Gulf, which still enjoys a proper framework, and of course new issues can be added to it."
Zarif also stressed the need for an end to bloodshed in Syria and a political solution to the Syrian conflict.
The former French foreign minister, for his part, underlined Iran's influential role in the establishment of regional and international peace and security.