Economy
Iran
Middle East
North America
Zarif to US: Economic terrorism, talks don't go together
Iran's Foreign Minister Mohammad Javad Zarif says the United States needs to stop "economic terrorism" against the Iranian nation if it really seeks talks with the Islamic Republic.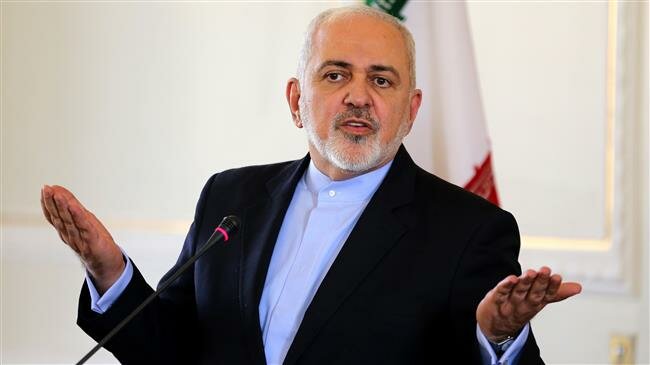 "We do not hold negotiations with those who have waged economic terrorism against our people. This should stop," Zarif said on Thursday.
The top Iranian diplomat lashed out at Washington for unilaterally pulling out of a multilateral 2015 nuclear deal, officially called the Joint Comprehensive Plan of Action (JCPOA), and reinstating its harsh economic sanctions against Iran.
"We never left the negotiating table….They (Americans) themselves decided to do so. They now make a false claim to deceive [the public] that 'we are ready to negotiate.' If they are ready for talks, negotiations are not in sync with terrorism," he said.
US President Donald Trump pulled his country out of the JCPOA in May 2018 and re-imposed harsh sanctions against the Islamic Republic in defiance of global criticism.
US sanctions on Iran 'crime against humanity': RouhaniIran's president says the US sanctions against the Islamic Republic amount to a "crime against humanity".
The tensions saw a sharp rise on the first anniversary of Washington's exit from the deal as the US moved to ratchet up the pressure on Iran by tightening its sanctions and building up its military presence in the region.
However, in parallel with his belligerent policies, Trump has, on several occasions in the past weeks, offered to hold talks with Iran.
Addressing a forum of governors from across Iran on Thursday, Zarif said the US has been waging economic terrorism against Iranian people "to compensate for its frustration in regional and international arenas."
"Therefore, don't be wrong! We are not in a weak position. The Islamic Republic of Iran is in a power position," Zarif said, adding that Washington's economic pressure campaign is aimed separating the nation from the government — a plot which has failed.
Zarif also said the US, in fact, isolated itself on the world stage by withdrawing from the nuclear deal, citing Washington's failure to gain support for its anti-Iran accusations at a Wednesday meeting of the International Atomic Energy Agency (IAEA).
"Under the current circumstances, the US feels it has been defeated both politically and operationally," he added.
"One of the reasons for the US's defeat is the [Iranian] people's resistance", said Zarif, adding that "the wrong policies perused by the US and its regional allies" have only made the resistance movement stronger.
The top Iranian diplomat said that Americans made "wrong calculations" that Iran would "collapse under tough economic pressures, all calculations [made by] the West and Americans failed to work by relying on the Iranian people."