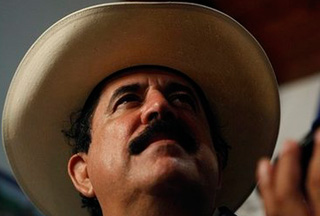 Ousted Honduran president Manuel Zelaya says he would legally contest an upcoming November 29 election and also called for the polls to be postponed.
"As president of Honduras, I declare that in these conditions I will not support this process and I'll contest it legally," said Zelaya from the Brazilian embassy in the Honduran capital where he has been since September.
"The elections have to be postponed in order to make them legitimate," the former rancher said in a statement later.
The Honduran Congress announced earlier this week that it would not consider whether Zelaya should be allowed to return to office, part of a US-brokered deal to end months of political crisis, until three days after the polls.
Zelaya is barred from competing in the upcoming presidential poll in which his successor will be chosen.
Even if he is reinstated by Congress he will have to step down on January 27 when his term naturally ends.
Zelaya, who was forced out of the country in his pajamas in a June 28 military-backed coup only to sneak back into the country nearly three months later, has called on his supporters to boycott the elections.