General
Zelaya to return home if talks fail: Wife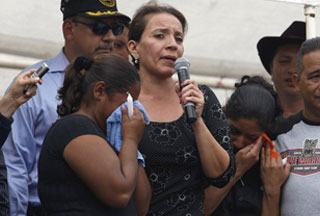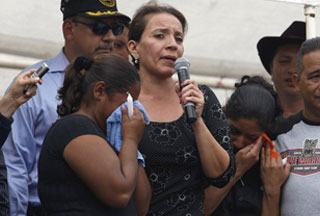 Deposed Honduran leader Manuel Zelaya is expected to return to his home country if the mediation talks on Saturday fails to reinstate him, his wife says.
Xiomara Castro de Zelaya declined to give the exact date of his husband's return to Honduras. Earlier, Venezuelan President Hugo Chavez had said Zelaya was due to return home soon.
"Saturday is the deadline. … Time runs out tomorrow," Castro de Zelaya told Reuters in an interview in the Honduran capital, Tegucigalpa, on the eve of the talks in Costa Rica. "He has to come back to the country. He has to come publicly. He is not a criminal and does not need to be hiding."
Zelaya and the head of the coup government, Roberto Micheletti, have sent high-level delegations to Costa Rica where the country's president, Oscar Arias, is trying to broker an end to the power struggle.
The development comes as thousands of supporters of the ousted President have rallied across Honduras to protest against Micheletti. Demonstrators blocked major roads and seized universities, despite tight security for the second day in a row. A military coup overthrew and exiled Zelaya on June 28th.
Micheletti has already said that he would only resign if Zelaya does not return to power and has vowed to arrest Zelaya upon his return to the country. The military-backed government prevented Zelaya's earlier attempted homecoming on July 5.
Left-wing leaders in Latin America who also back Zelaya have been vociferous in condemning the "coup" against him.
The Venezuelan President Hugo Chavez, who brought Honduras's ousted foreign minister Patricia Rodas in his plane with him to Bolivia, vowed to fight against "conspiracies" targeting Honduras, Venezuela and Bolivia.
The Cuban revolutionary leader also repeated a previous accusation that a US military base in Honduras is helping the coup. The Honduran military is known to be trained and closely influenced by the US military.
"The correct thing in this moment is to demand that the United States government cease its intervention, stop its military support to the coup leaders and remove its (military) force from Honduras," said Castro.
Although, the US has condemned the coup and President Barack Obama has said Zelaya should be returned to power, the democratically-elected but militarily ousted President has said the US needs to do more to help him back in power.
The US has also said it opposes any attempt by Zelaya to return home.