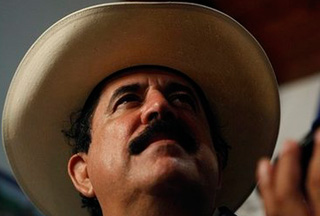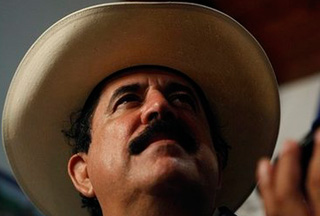 The deposed Honduran constitutional President Manuel Zelaya says that US involvement in settling the crisis in Honduras could lead to his "immediate" reinstatement.
"This [the Honduran crisis] will be over in the blink of an eye once the United States takes clear steps against those behind the coup," Zelaya told the Spanish daily El Mundo at the Honduras embassy in Nicaraguan capital Managua, reported Reuters on Tuesday.
Zelaya, also calling on the world countries to help him back to power, insisted that by helping his reinstatement the international community can potentially thwart future coups aimed at removing leaders.
"The international community must set a precedent so that there is no repeat of this and so that coup d'etats become a thing of the past and those who try it are punished," noted Zelaya who had allied himself with other Anti-US leftist presidents in the region.
Earlier this month the deposed president had said that he expected the US to play a bigger role in aiding his return to power.
"I ask the United States to do more than the other countries of the world," he said.
Some regional leaders commented that the US- despite condemning the incedent- was actually behind the June 28 military coup against Zelaya in a bid to threaten the new alliance in Latin America .
"This threat doesn't scare us; on the contrary, with more force, we will be stronger," said the Bolivian President Evo Morales referring to the June 28 military coup that removed Zelaya from power.