Palestine
zionist aggression: Unarmed Gaza fishermen under fire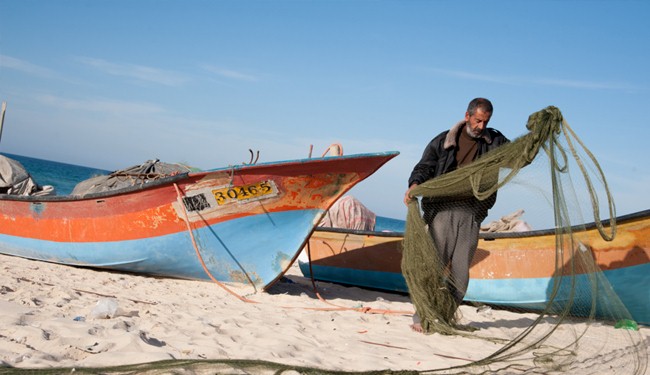 Israeli forces have opened fire on unarmed Palestinian fishing boats, off the southern coast of the besieged Gaza Strip.
Ashraf al-Qidra, Gaza's health ministry spokesman, said on Tuesday that Israeli forces fired at the boats near the city of Rafah, situated 30 kilometers (around 19 miles) south of Gaza City, late on Monday, injuring two fishermen.
The two fishermen were shifted to Abu Yousif al-Najjar Hospital in Rafah, where medics said they have suffered moderate injuries.
On March 26, Israeli warships targeted Palestinian boats near the city of Rafah, injuring four fishermen.
On March 18, Israeli naval forces opened fire on several Palestinian fishing boats off the coast of the city of Khan Yunis in the southern Gaza Strip, forcing the fishermen to sail back to shore. No injuries were reported.
Palestinian boats are permitted to fish up to six nautical miles from the Gaza coast according to the terms of Israel's naval blockade on the impoverished enclave.
The fishing area was extended to six nautical miles from three on November 21, 2012, in the truce deal that ended an eight-day Israeli military assault on the Gaza Strip.
Gaza has been blockaded since June 2007, an act which has caused a decline in the standard of living as well as unprecedented levels of unemployment, and unrelenting poverty.
The apartheid regime of Israel denies about 1.7 million people in Gaza their basic rights, such as freedom of movement, jobs that pay proper wages and adequate healthcare and education.