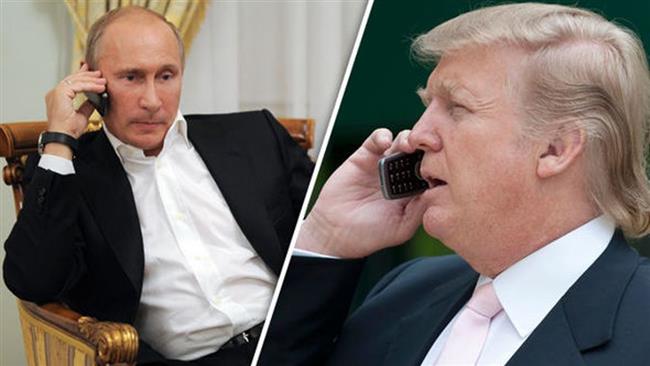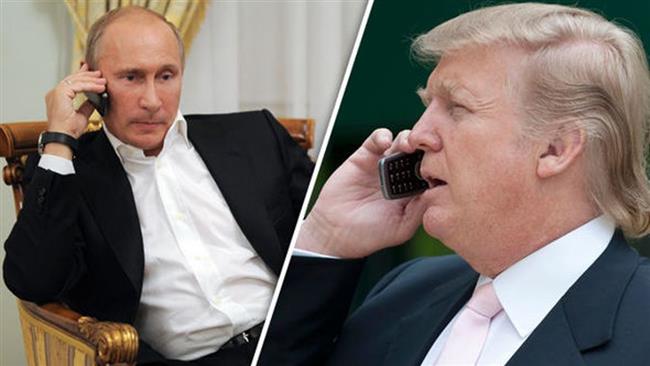 Russian President Vladimir Putin and US President Donald Trump have discussed deescalating tensions in the Korean Peninsula and promoting a diplomatic solution in Syria.
According to a statement released by the Kremlin on Tuesday, the two presidents also agreed to meet in July on the sidelines of the G20 summit in Hamburg, Germany.
The statement, which referred to the conversation as constructive, added that both Trump and Putin emphasized furthering coordination in the battle against global terrorism.
It added that Putin had called for restraint on the situation in Syria and that both leaders had agreed to work towards deselecting tensions with North Korea.
Tensions between North Korea and the US have soared in recent weeks. Washington has repeatedly warned that "all options are on the table" regarding Pyongyang.
The US has recently deployed aircraft carrier USS Carl Vinson to waters off the Korean Peninsula in a show of force. The USS Michigan nuclear submarine joined the strike group earlier this week.
They decided to "activate the dialogue between the heads of the foreign ministries of both countries who will seek variants to secure the ceasefire regime, stabilize it and control it," added the statement. "The goal is to create the background that would help launch a real peace process in Syria. This means that Russia's foreign minister and the US secretary of state would inform their leaders about progress in this regard."
For nearly six years, Syria has been fighting foreign-sponsored militancy. United Nations Special Envoy for Syria Staffan de Mistura estimated in August last year that more than 400,000 people had been killed in the war until then. The UN stopped its official casualty count in the war-torn country, citing its inability to verify the figures it received from various sources.
"The conversation was a very good one, and included the discussion of safe, or deescalation, zones to achieve lasting peace for humanitarian and many other reasons," said another statement released by the White House.
It added that the US will be sending a representative to the Syrian ceasefire talks set for Astana, Kazakhstan, on Wednesday and Thursday.
The Astana talks have brought representatives from the government in Damascus and opposition groups to the negotiating table. The first round of the Astana talks took place on January 23-24, followed by the second round on February 15-16 and the third round on March 14-15.
"They also discussed at length working together to eradicate terrorism throughout the Middle East. Finally, they spoke about how best to resolve the very dangerous situation in North Korea," the statement added.