Zionist Israel incapable of launching unilateral attack on Iran: Rafsanjani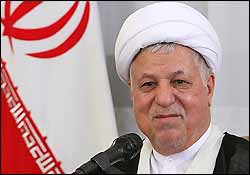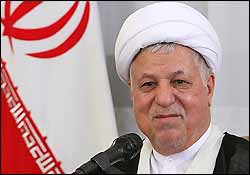 Expediency Council Chairman Akbar Hashemi Rafsanjani says Israel will never be able to launch an attack against Iran, unless the United States assists it.
"Israel cannot attack Iran on its own. If it attacks (Iran), it must be sure that the United States will join it, either at the beginning (of the war) or during (the war). Therefore, it needs the United States' permission," Rafsanjani said in an interview with the Arman newspaper published on Sunday.
Now, the enemies have resorted to every ploy to strike a blow against the Islamic Revolution, but it is clear that they have pinned their hopes on the current situation, which has been created by sanctions and propaganda campaigns, so that they will feel no need for war with Iran, he stated.
However, he added, "We should prepare ourselves for any eventuality."
But if Washington shows goodwill, Iran will have no problem with entering into a dialogue with the United States, he stated.
He went on to say that it was the U.S. that cut ties with Iran.
He added that all through his presidency, from 1989 to 1997, when reporters asked him about relations with Washington, he answered, "As a first step, the U.S. should show goodwill because it started (showing) ill will and froze our assets."
On the foreign policy pursued by the current Iranian administration, he said, "We can do very much better. The majority of countries want to work with Iran. Our neighbors in the south and the north had been cooperating with us."
But there are countries like the U.S. which, for certain reasons, Iran cannot have dealings with, he explained.
He added, "Diplomacy has a special language. One should not talk haphazardly (and) everybody should not allow himself to declare a strategy about the most important policies of the country… If we safeguard our foreign policy principles, the situation will become better."