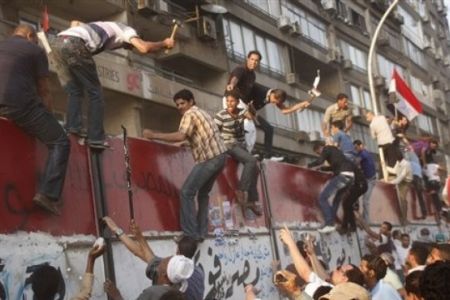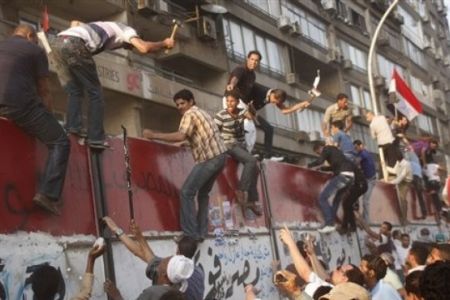 The Israeli ambassador to Egypt has flown out of Cairo, a few hours after demonstrators stormed the Israeli embassy.
Yitzhak Levanon boarded a plane before dawn on Saturday morning.
Meanwhile, Israeli Defense Minister Ehud Barak called US Defense Secretary Leon Panetta in the early hours of Saturday morning Tel Aviv time and urged Washington to help protect the Israeli embassy in Cairo.
Egyptian protesters stormed the embassy on Friday, destroying a part of a barricade wall around the building in the process.
Egyptian police used tear gas to disperse the crowd.
One person died due to asphyxiation after inhaling tear gas, and about 450 demonstrators were injured, medical personnel said.
A protester tore down the Israeli flag at the embassy, to the cheers of thousands of demonstrators on the scene.
In addition, tens of thousands of Egyptians once again gathered at the iconic Liberation Square in Cairo to demand that the military government hand over power to a civilian administration. The protesters gathered in the square after Friday prayers to participate in the "Correcting the Path" demonstration.