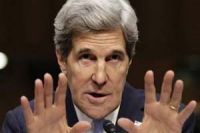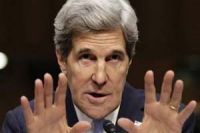 US Secretary of State John Kerry has praised US-Turkish cooperation in making efforts to topple the government of Syrian President Bashar al-Assad.
Kerry thanked Foreign Minister Ahmet Davutoglu at a joint press conference in Istanbul on Sunday, and said, "The United States and Turkey will continue cooperating toward the shared goal of a peaceful transition in Syria."
Kerry, who visited Turkey as part of a 10-day overseas trip, also met with Turkish Prime Minister Recep Tayyip Erdogan before leaving for Israel.
In addition to coordinating efforts against the Syrian government, the visit to Turkey was also aimed at stabilizing relations between Turkey and the Zionist regime.
Kerry claimed that Ankara and Tel Aviv are anchors of stability in the Middle East.
Kerry's visit was met with anti-American protests in Turkey, where eight arrests were made.
The US and Turkey, along with some Arab countries, especially Saudi Arabia and Qatar, have been training, funding, and arming terrorists in Syria.