North America
Zionist Kerry in Saudi Arabia for talks on US-created, armed, financed ISIL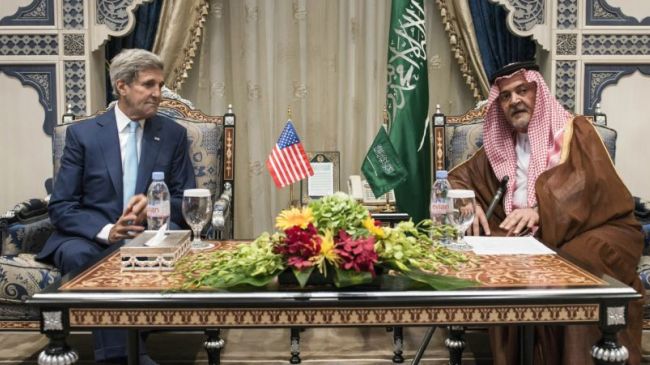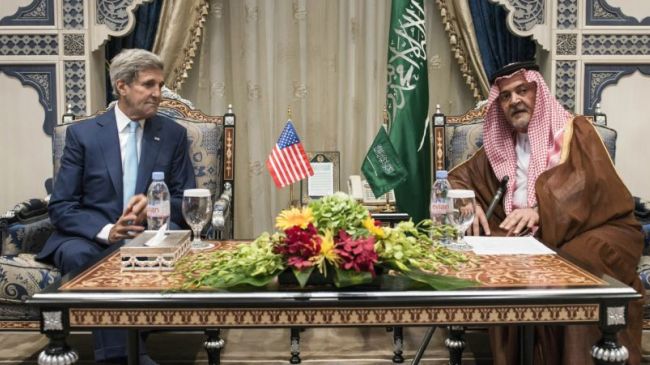 US Secretary of State John Kerry arrives in Saudi Arabia for talks with Arab leaders on how to fight ISIL amid doubts over the Obama administration's strategy to confront the terror group wreaking havoc in Iraq and Syria.
Kerry arrived in the Red Sea port of Jeddah on Thursday for a high-level strategy session with representatives from Saudi Arabia and other oil-rich Persian Gulf Arab nations.
Delegates from Iraq, Jordan, Egypt, Lebanon and Turkey will also attend the talks.
The trip is part of Washington's efforts to forge "a coalition of the willing" against ISIL.
Saudi Arabia has agreed to an American request to provide a base to train what Washington and its allies call "moderate" elements within the Syrian insurgency.
Kerry will also ask Arab leaders for assistance including over-flight rights and for regional television news outlets to speak out against ISIL ideology, a US official said.
Kerry dismissed the claim by the terrorist organization that it is acting in accordance with the Islamic rulings.
"ISIL claims to be fighting on behalf of Islam, but the fact is that its hateful ideology has nothing to do with Islam," the top US diplomat said.
"ISIL is a manifestation of evil, a vicious terrorist organization, and it is an organization that achieves its goals only through violence, repression and destruction, fed by illicit funding and a stream of foreign fighters. It has seized territory and terrorized the people who live there regardless of their sect or ethnicity," added Kerry.
A senior State Department official said part of the Obama administration's strategy on ISIL included efforts to stem the flow of money to the terrorist group.
The United States and some of its regional allies, chief among them Saudi Arabia and Qatar, have been providing funds, trainings and arms to militant groups in Syria to fight the government there.
Last year, ISIL exploited the chaos of the Syrian conflict to capture large swaths of territory there before sweeping into neighboring Iraq.
On Wednesday, President Barack Obama said the United States was prepared to expand its bombing campaign against ISIL terrorists from Iraq into Syria. "I will not hesitate to take action against ISIL in Syria, as well as Iraq."
The United States has so far launched over 150 airstrikes in Iraq and deployed more than 1,100 troops and "advisers" to the Arab country.