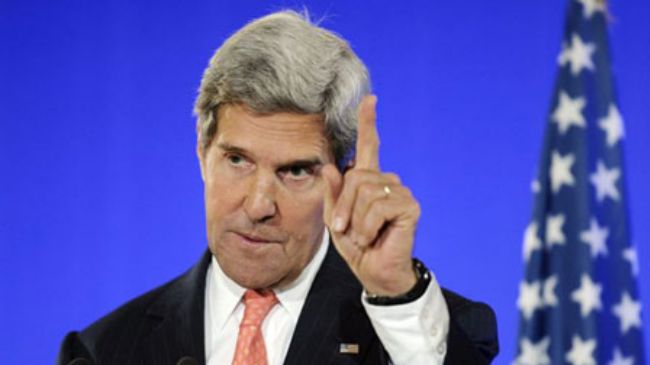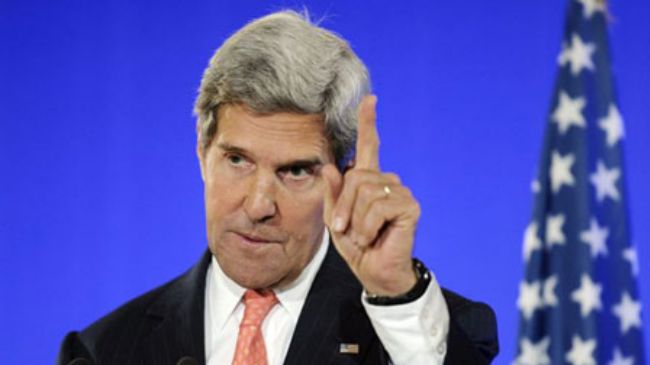 US Secretary of State John Kerry continues efforts to gain support from the European countries for a planned military attack on Syria.
During his visit to France, the top zionist US diplomat said that the potential strike already has the support of "a number of countries, in the double digits."
"There are a number of countries in the double digits, who are prepared to take military action," Kerry said at a joint press conference with French Foreign Minister Laurent Fabius on Saturday.
"This is not the time to be silent spectators to slaughter,'' he said. ''This is not the time to allow a dictator unfettered use of some of the heinous weapons on earth.''
Washington's campaign to bolster support for military action comes despite the fact that the European Union said any strike on Syria should wait until after UN inspectors publish their report over the alleged use of chemical weapons in the country.
The Obama administration has claimed that the government of Syrian President Bashar al-Assad was behind a deadly chemical weapons attack in the suburbs of Damascus last month. The Syrian government has denied the allegations.
European Union foreign ministers also blamed the August 21 chemical attack on Assad's government, but they did not endorse military action.
In his weekly radio address on Saturday, President Barack Obama called on Americans to back his plan for launching an attack on Syria.
"This would not be another Iraq or Afghanistan," Obama said. "I know that the American people are weary after a decade of war, even as the war in Iraq has ended, and the war in Afghanistan is winding down. That's why we're not putting our troops in the middle of somebody else's war."
Many Republican and Democratic lawmakers are against Obama's request for Congress to authorize the use of military force against Syria.
Earlier this week, the Senate Foreign Relations Committee approved a measure that would authorize a strike. The first votes by the full Senate could come on Wednesday.
Obama administration officials have reached out directly to one-third of Congress in the last two weeks – at least 60 senators and 125 House members – with more contacts to come, a White House aide told Politico.
The pro-Israel lobbying group, AIPAC, will reportedly have a significant role next week in support of the Syria resolution, AIPAC officials said. The group's lobbyists and their supporters have been speaking directly to a number of lawmakers, especially senators.