India
Middle East
Palestine
Zionist lover India Govt. plans to purchase 'armed version' of zionist 'israeli' drone
India is reportedly weighing a deal to buy 10 drones with missile-launching capabilities from Israel, a report says.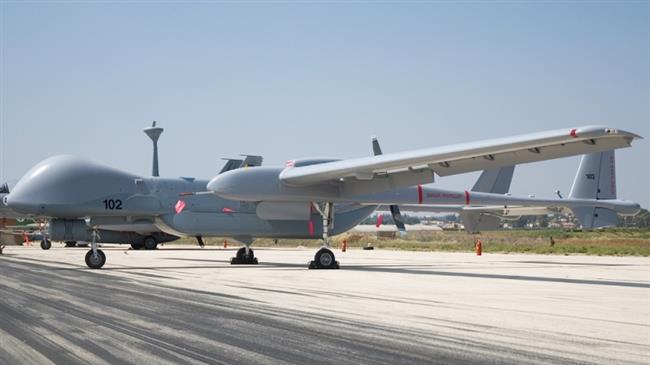 India's Tribune newspaper reported on Sunday that the Indian Ministry of Defense had approved the deal to buy Israel's long-range drone Heron TP, which is capable of carrying missiles, last May.
"We are working to finalize the deal that is estimated to be $400 million," the Tribune quoted sources as saying.
According to media reports, the Heron TP – Israel's largest unmanned aerial vehicle with an 85-foot wingspan that can carry a 1-tonne payload – is capable of launching air-to-surface missiles.
The deal comes after Prime Minister Narendra Modi paid a trip to Israel in May, becoming the first Indian premier to visit the occupied territories.
If the agreement goes ahead, the drones would be the first ones that India could use to conduct attacks against ground targets. New Delhi is one of Israel's largest buyers of military hardware.
In August, Robert Fisk, The Independent's multi-award-winning Middle East correspondent, highlighted the role played by Israeli-supplied ammunition and aircraft in fanning the flames of conflict between India and Pakistan.
Islamabad-New Delhi relations have been strained since August, when India stripped autonomy and statehood from its portion of the disputed Kashmir region and imposed further crackdown on dissent there.
Analyst: Israel playing a big role in India's escalating conflict with PakistanA renowned journalist and media analyst says Israel is playing a big role in fanning the flames of conflict between India and neighboring 'Pakistan.
The head of Russian Helicopters, Andrey Boginsky, said on Sunday that India was delaying the signing of a deal to buy 200 helicopters.
"We have done significant successful work and provided all information to India's ministry of defense, unfortunately there is no efficient and quick way from the Indian side," he told Reuters. "We can't understand the reasons for the delay."
Boginsky said the two countries had inked an agreement in 2015 under Modi's 'Make in India' program for the supply of 200 Russian KA 226T helicopters, with Russia to deliver 60 and the remaining to be assembled and manufactured in India.
Moscow and New Delhi have also held preliminary talks for the supply of over 100 of the KA 226-T helicopters for the Indian Navy.
He stressed that India would be "the main winner" if it combined the planned order for over 100 rotorcraft for the Indian Navy with the 200 it is looking to purchase for the Army.