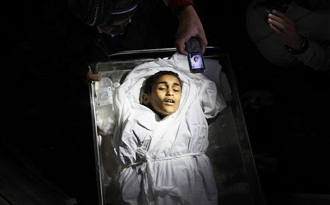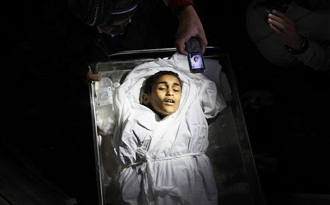 Palestinian medical sources say that a 12-year-old boy and another Palestinian have been martyred in separate Zionist Occupation Israeli airstrikes against the Gaza Strip.
The raids happened early Sunday, bringing the death toll from Zionist Occupation Israeli airstrikes to 18 since Friday.
The boy identified as Ayoub Assaleya was killed by an Zionist Occupation Israeli airstrike in the northern Gaza Strip. Another Palestinian was killed in a separate strike in Gaza City, according to medics.
The new killing came after a series of attacks left at least 16 Palestinian dead and 30 more injured in the past two days.
Zionist Occupation Israeli Minister of Military Affairs Ehud Barak reiterated that Zionist Occupation Israeli troops will continue their attacks on the coastal strip.
The Israeli military frequently bombs the Gaza Strip, saying the actions are being conducted for defensive purposes.
However, disproportionate force is always used in violation of international law, and civilians are often killed or injured.