Palestine
Zionist Police Storm Al-Aqsa Mosque, Arrest Imam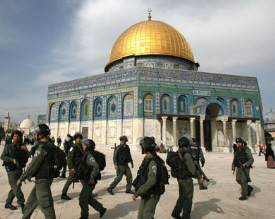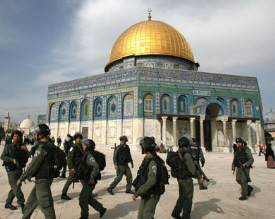 The Zionist police raided al-Aqsa Mosque in Al-Quds (Jerusalem's Old City) late Wednesday and forced around 20 Muslim worshipers performing night prayer to leave the premise, witnesses said on Thursday, Wafa news agency reported.
They said that the police arrested the imam leading the prayer, and took him to an unknown location before closing the gates to the compound until dawn prayer.
Zionist police also restricted entry of young men into Al-Aqsa who were headed to perform dawn prayer, while keeping identity papers of others until they leave the Mosque.
Meanwhile, a Mosque guard told ma'an news agency that "more than twenty settlers entered the grounds of the Haram al-Sharif overnight Wednesday accompanied by Zionist army forces.
Muslim leaders have warned that fanatic Jews will try to enter al-Haram al-Sharif compound, one of Islam's holiest sites which houses al-Aqsa Mosque and the Dome of the Rock, to hold ceremonies marking the destruction of the Jewish temple more than 3000 years ago, which coincides on Sunday.
The leaders called on Muslims to keep a constant vigil at the compound to defend it against the intruders.