Middle East
Saudi Arabia
Yemen
Zionist puppet Saud's airport comes under 2nd bout of Yemen retaliation
A second round of Yemeni retaliatory strikes hits an airport in southwestern Saudi Arabia in a little over 24 hours.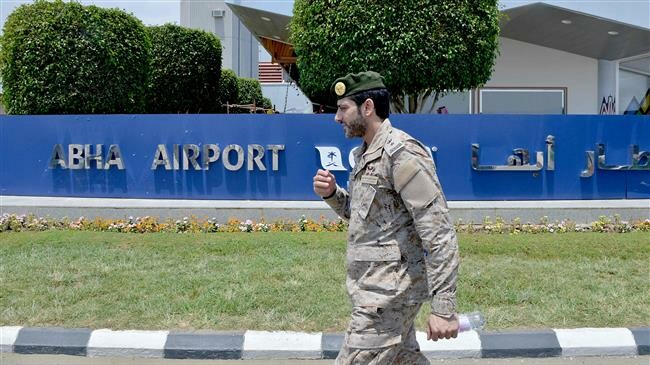 Yemen's al-Masirah television network reported in late Monday that fighters with the country's popular Houthi Ansarullah movement had launched drone strikes on the Abha airport in the kingdom's Asir region. The network was citing a military spokesman.
Earlier in the day, al-Masirah said Ansarullah and its allied forces had targeted the terminal, which is located in Asir's capital city, with a Qasef K2 drone on Sunday.
Saudi airport once again hit by Yemeni dronesYemen launches new drone attack targeting the Abha regional airport in southern Saudi Arabia.
On Saturday, the forces struck the airport and another one in the neighboring province of Jizan, using the same type of drone.
The allied Yemeni defensive forces have ramped up their counterattacks against Saudi Arabia to force the kingdom and its allies to stop their 2015-present invasion against the impoverished country.
Tens of thousands have died and the entire country been pushed close to the brink of outright famine during the invasion.
The military aggression, which recruits the United Arab Emirates and many other countries among the kingdom's friendly states, seeks to restore Yemen's former Riyadh-allied officials.
The United States and its most prominent Western allies, including the UK and France, heavily arm the Saudi-led coalition, despite outspoken criticism of the invasion by international human rights bodies.