Palestine
Zionist regime begins destroying Palestinian homes on Jerusalem al-Quds outskirts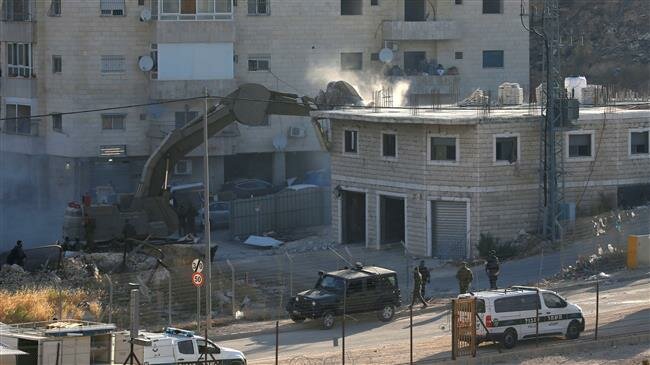 Rabid dog Israeli forces have begun destroying homes on the outskirts of the occupied East Jerusalem al-Quds, despite international condemnation and mass protests.
Hundreds of Israeli soldiers and police stormed Sur Baher early on Monday and declared the village a military zone, banning journalists from entering.
"Since 2 am they have been evacuating people from their homes by force and they have started planting explosives in the homes they want to destroy," said Hamada Hamada, a community leader in Sur Baher.
Palestinian and international activists, who tried to stop the demolition, were present in the scene and filmed and photographed the work.
Adnan Gheith, the Palestinian governor of Jerusalem al-Quds, criticized the demolitions as a war crime.
In June, Israel's supreme court rejected a petition by the owners to cancel the demolitions. A deadline for the residents to abandon the houses expired on Friday.
Israel claims the owners had failed to obtain "building permits" from the regime.
The residents, however, say they did not need Israeli permission to build their homes because they had received approvals from the Palestinian Authority, which is tasked with running the West Bank's affairs.
The Palestinian Ministry of Foreign Affairs and Expatriates on Sunday called upon the International Criminal Court (ICC) to launch an investigation into the Israeli regime's mass demolitions in the neighborhood.
The ministry also said the Israeli high court's decision "proves that the Israeli judiciary is part of the Israeli colonial mindset and has nothing to do with law, but provides cover and protection to the occupier's crimes and violations."
The United Nations, which recognizes Jerusalem al-Quds as occupied territory, has urged Israel to halt the demolitions.
"The continuation of this policy undermines the viability of the two-state solution and the prospect for a lasting peace," the European Union said in a statement.
Israeli forces injure scores in al-Quds
Meanwhile, tens of Palestinian people were injured during clashes with Israeli forces in the village of Isawiya in the occupied East Jerusalem al-Quds.
The Palestine Red Crescent Society said the Israeli force attacked paramedics and prevented them from transferring the injured people, leaving one of the paramedics wounded by a rubber bullet.