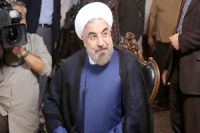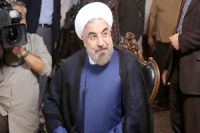 Iran President Hassan Rouhani has criticized the Zionist regime for doing "injustice to people of the Middle East" and sowing instability in the region.
Speaking in an exclusive interview with the American TV channel, NBC, Rouhani described the Zionist regime as "occupier and usurper" and one which does injustice to regional people and has brought instability to the region through its warmongering policies.
He also responded to a tirade by Zionist regime's Prime Minister Benjamin Netanyahu, who had described Rouhani as "a wolf in sheep's clothing" shortly after his election as Iran's 11th president.
The Iranian president, who garnered more than half of the votes cast on June 14 in a national election marked by a turnout of more than 72 percent, said: "Zionist regime should not allow itself to comment on an administration that has come to power through a democratic and free election."
Rouhani, however, noted that Iran does not seek war with anyone in the region, saying that Tehran is after regional peace and stability.
Rouhani emphasized that Tehran will never develop nuclear weapons and has never pursued that path.