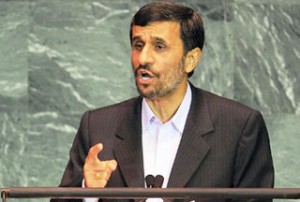 President Mahmoud Ahmadinejad says the Israeli regime is committing "genocide" against the Palestinian people.
"How can one imagine that the inhumane policies in Palestine may continue to force the entire population of a country out of their homeland for more than 60 years by resorting to force and coercion; to attack them with all types of arms and even prohibited weapons," Ahmadinejad said at the 64th UN General Assembly on Wednesday.
To the chagrin of the international community, the occupiers are called "peace-lovers", Ahmadinejad said, hinting at Israel.
"How can the crimes of the occupiers against defenseless women and children and destruction of their homes, farms, hospitals and schools be supported unconditionally by certain governments, and at the same time, the oppressed men and women be subject to genocide and heaviest economic blockade being denied of their basic needs, food, water and medicine," the Iranian President stated.
"They (Palestinians) are not even allowed to rebuild their homes which were destroyed during the 22-day barbaric attacks by the Zionist regime while the winter is approaching. Whereas the aggressors and their supporters deceitfully continue their rhetoric in defense of human rights in order to put others under pressure," Ahmadinejad said.