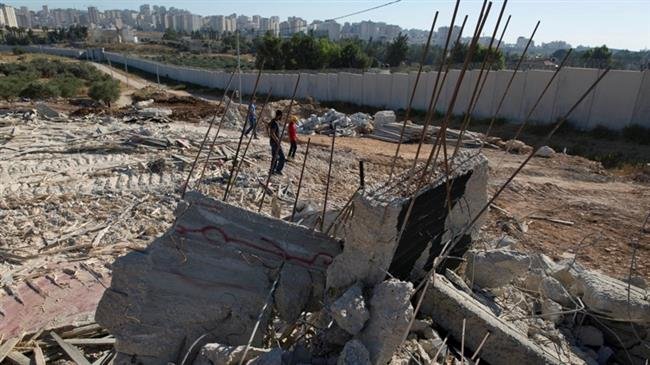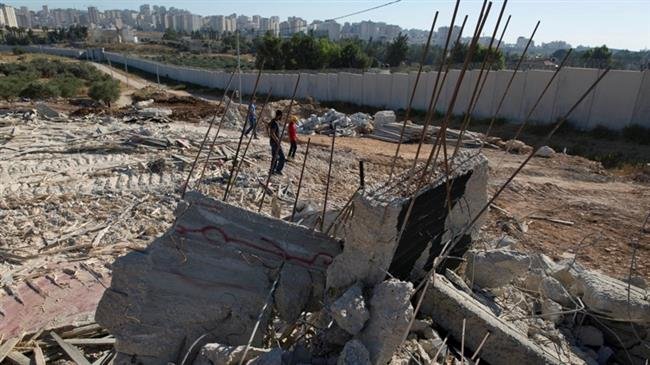 Zionist regime forces have bulldozed two more Palestinian houses in Al-Halawa neighborhood in the south of the West Bank city of al-Khalil (Hebron).
Palestinian news outlets reported Wednesday that the two small houses were destroyed the previous day under claims that they had been built without "building permits", which are impossible to obtain from the Israeli regime, said Ratib al-Jabour, the coordinator of the Anti-Settlement and Wall Committee.
Jabour told Quds Press that the Israeli forces had also seized the solar panels used to supply electricity to the two houses, which belong to Palestinians Khalil Younis Arram and his cousin Ahmad Ismail Arram.
The neighborhood where the two homes were located is surrounded by illegal Israeli settlements and has come under increased attacks by Israeli forces. They frequently raid the Palestinian houses and confiscate any new equipment donated to the residents, including mobile homes funded by the European Union.
The demolition was carried out on the same day as the Tel Aviv regime issued a confiscation order against 2,036 acres of Az-Zawiya village's lands in the Salfit district of the West Bank.
The land is located in the western part of the village where Israeli settlements are built on Palestinian lands.
Palestinian land owners have been given seven days to appeal through the so-called Israeli Civil Administration.