Palestine
Zionist regime forces injure Palestinian, detain scores in West Bank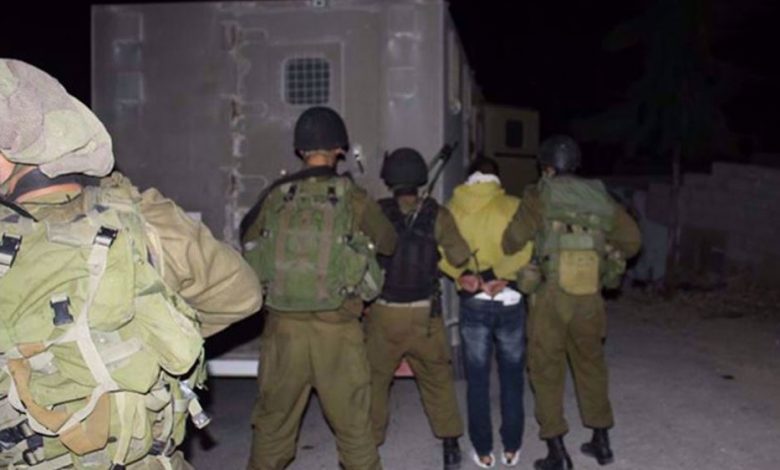 Israeli military forces have injured a Palestinian youth during fresh clashes and its undercover agents abducted several Palestinians in a series of large-scale dawn raids across the occupied West Bank over the past few hours, local media reports say.
Israeli forces detained Palestinian civilians after storming several neighborhood of Bethlehem, Jenin, Ramallah cities at dawn on Thursday, the Palestinian Information Center reported.
According to local sources, at least four young Palestinians were forcibly taken away after Israeli forces broke into their houses in Jaba town, south of Jenin.
Local residents said violent clashes occurred between troops and Palestinian youths of Jaba with Israeli forces indiscriminately firing rounds and tear gas canisters at protesters.
At least one young man was injured by a rubber bullet and many others suffered from their exposure to tear gas during clashes in the troubled area.
Rubber bullets and live ammunition are the regular means by which Israeli forces treat Palestinians in the occupied territories.
At least three other citizens were kidnapped from Aida refugee camp during an operation in northern Bethlehem.
In Ramallah, the Israeli forces kidnapped several citizens after storming their homes across different areas of the city.
Israeli forces also stormed several other parts of the occupied territories where they stopped vehicles at the neighborhood's entrance and searched them.
Some cars and vehicles belong to Palestinians also sustained material damage during the events
The circumstances surrounding the kidnappings are yet unknown, but the Israeli forces carry out such swoops on a nearly daily basis, taking away Palestinians, whom the regime usually accuses of acting against its so-called interests.
More than 7,000 Palestinians are reportedly held at Israeli jails. Hundreds of the inmates have apparently been incarcerated under the practice of administrative detention, a policy under which Palestinian inmates are kept in Israeli detention facilities without trial or charge.
Some Palestinian prisoners have been held in administrative detention for up to eleven years.
Palestinian inmates regularly stage hunger strikes in protest at the administrative detention policy and their harsh prison conditions in Israeli jails.
Tel Aviv has also been criticized for its extensive use of lethal force against and extrajudicial killing of Palestinians who do not pose an immediate threat to the occupation forces or to the Israeli settlers.
Tensions have been mounting between Israelis and Palestinians in the wake of Israeli Prime Minister Benjamin Netanyahu's plan to annex parts of the West Bank that has been met with far-and-wide regional and international objection.
Israel has built more than 230 illegal settlements on the occupied Palestinian territory since 1967 that have come to house some 600,000 settlers.
According to B'Tselem, an Israeli rights group, Israel has clearly allowed its settlers to assault Palestinians for years and inflict damage on their property as one of its policies.
This has included provision of military protection for the attackers, and in some cases soldiers' active participation in the assault.
---