Middle East
Palestine
Zionist regime launches fresh Gaza airstrikes, targets Palestinian boat
Occupation warplanes have conducted fresh air raids on the Gaza Strip in yet another act of aggression against the besieged Palestinian territory.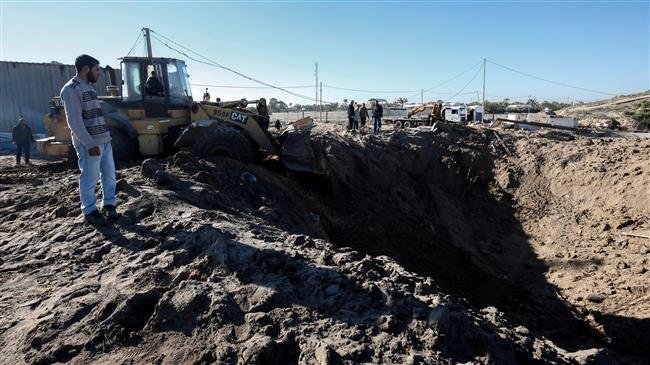 In a statement released on Saturday, the Israeli army said that its jets had struck several targets allegedly belonging to the Palestinian resistance movement Hamas in the southern and northern Gaza the night before.
Tel Aviv claimed that the aerial assault came "in response to the projectile that was launched from the Gaza Strip" as well as "balloons carrying explosive devices" and attempts to damage "security infrastructure" in the occupied territories.
Gaza security officials said the Israeli strikes had not caused any casualties.
The attacks, however, damaged Palestinian houses and farming land, according to Wafa news agency.
Also on Saturday, the Israeli navy opened fire at a fishing boat near off the northern Gaza. Palestinian media reported that the incident had no casualties.
The Tel Aviv regime carries out regular attacks on the blockaded coastal sliver under the pretext of hitting positions belonging to Hamas, the movement which runs the Palestinian territory.
The coastal sliver has been under a crippling land, air and sea Israeli blockade since 2007 and witnessed three wars since 2008.
Gaza has also witnessed a fresh wave of tensions since March 30, which marked the start of "The Great March of Return" protests.
So far, at least 253 Palestinians have been killed by Israeli fire during the weekly anti-occupation rallies in Gaza.
Israeli forces have killed one Palestinian and injured at least 42 others during protests on the edge of the besieged Gaza Strip.
Friday's clashes near the Gaza fence left a Palestinian dead and at least 45 others injured.
A recent report, commissioned by the UN Human Rights Council, said that Israeli forces may have perpetrated "war crimes" or "crimes against humanity" during the 2018 Gaza unrest.