Palestine
Zionist regime rabid dogs assault across West Bank culminate in abduction of 12 Palestinians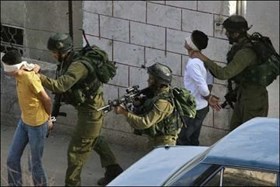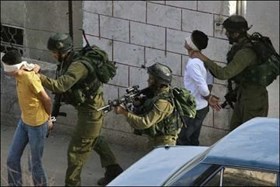 The Israeli occupation forces (IOF) at dawn Sunday rounded up 12 Palestinian civilians in a spate of arbitrary mass-abduction campaigns launched across cities of the West Bank.
A PIC correspondent said five Palestinian citizens were captured in the wave of IOF abrupt assaults that flared up in the southern West Bank city of al-Khalil.
IOF soldiers deployed in the city kidnapped the 22-year-old Palestinian university student Mosaab Nidhal Zagheir after having stormed his family home and scoured it.
The Israeli occupation soldiers further apprehended ex-prisoner Amin Shafiq al-Qawasma, 25, local sources reported.
Palestinian youth Mousa Hussein was arrested by the IOF and dragged to an unknown location, moments after the soldiers broke into his family home in Wad al-Hirya and turned it upside down.
The campaign culminated in the apprehension of the two sons of the PLC deputy Mohamed Abu Juheisha, Moutawakel and Moutaz, from their own home in Idna town, west of al-Khalil city.
Other Israeli occupation troops stormed Takoua village, east of Bethlehem city, and rummaged through Palestinian civilians' homes.
Three Palestinian young men were captured in the process and dragged to an unidentified destination.