Iran
zionist regime rehashes anti-Iran war rhetoric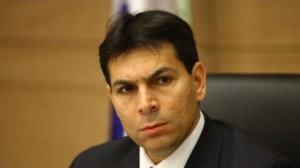 Israel's Deputy Defense Minister Danny Danon has repeated Tel Aviv's threats of military action against Tehran over the country's nuclear energy program.
"We have made it crystal clear – in all possible forums – that Israel will not stand by and watch Iran develop" nuclear weapons, Danon said on Friday.
The Israeli official's comments came following an unfounded Thursday report by the Institute for Science and International Security (ISIS) that alleged Iran needs nearly a month to produce enough uranium to manufacture a nuclear bomb.
Israel's salvo of threats and accusations against Iran comes as the International Atomic Energy Agency (IAEA) has found no proof whatsoever during its numerous inspections of Iranian nuclear facilities to corroborate the unfounded allegations leveled by the US, Israel and some of their allies against Tehran over its nuclear energy program.
Iran and six world powers – the US, Britain, France, Russia, China and Germany – have expressed satisfaction over the outcomes of their latest rounds of nuclear talks in Geneva on October 15-16 to resolve issues regarding Tehran's nuclear energy program.
Iranian Foreign Minister Mohammad Javad Zarif said earlier that the Tel Aviv regime has been saying for the past 22 years that Iran would produce a nuclear bomb in six months. Zarif emphasized that Tehran will not allow warmongering groups to use trumped-up charges to pursue their evil objectives.
Addressing the United Nations General Assembly on October 1, Israeli Prime Minister Benjamin Netanyahu threatened unilateral military action against Iran to dismantle Iran's civilian nuclear facilities.
Israel, which is the sole possessor of nuclear weapons in the Middle East with 200-400 warheads, has repeatedly threatened to launch military strikes against Iran over the country's nuclear energy program.
Iran categorically rejects the allegation, arguing that as a signatory to the Non-Proliferation Treaty (NPT) and a member of the IAEA, it has the right to use nuclear technology for peaceful purposes.