Middle East
Saudi Arabia
Zionist Saudi king's brother Prince Bandar dead report reveals
Saudi King Salman's elder half-brother, Prince Bandar bin Abdulaziz Al Saud, has died at the age of 96.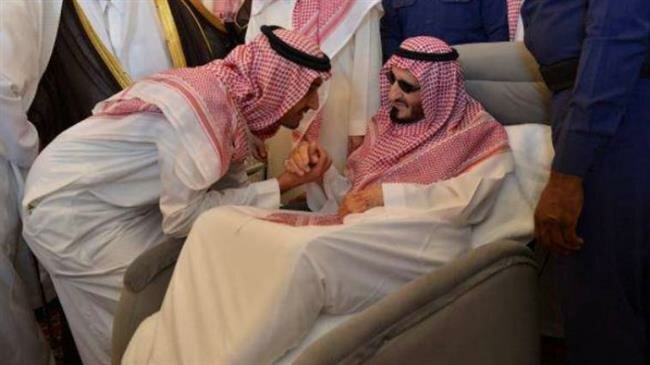 Prince Faisal bin Turki bin Faisal posted a tweet on Sunday confirming the death of Prince Bandar, the 10th son of Saudi Arabia's late founder King Abdulaziz Al Saud and his eldest living son.
He did not hold any political post and had been passed over in the line of succession to the throne.
However, his sons hold prominent posts, with Prince Faisal bin Bandar serving as the governor of Riyadh; Prince Abdullah bin Bandar presiding over the National Guard; Prince Abdullah bin Bandar being deputy governor of Mecca; and Prince Khalid bin Bandar serving as an adviser to King Salman.
Saudi Arabia's de facto ruler is Mohammed bin Salman, who was appointed by the Saudi Allegiance Council as the new crown prince in 2017 by breaking the customary rules of succession.
The international reputation of Crown Prince Mohammed bin Salman, also known as MbS, was tarnished following the brutal murder of Saudi journalist Jamal Khashoggi last year. The crown prince is believed to have ordered his assassination.
Khashoggi, a former advocate of the Saudi royal court who later became a critic of bin Salman, was killed and his body was dismembered by a Saudi hit squad after being lured into the Saudi consulate in Istanbul on October 2, 2018.
The Washington Post, for which Khashoggi was a columnist, reported in November last year that the CIA had concluded that Mohammed personally ordered his killing. Riyadh strongly denies the allegation.
'UN believes MbS prime suspect in Khashoggi murder'A UN investigative team believes Saudi Crown Prince Mohammed bin Salman is the main suspect in Jamal Khashoggi's murder, an adviser to Turkish President Erdogan says.
The young prince drew international criticism long before, when in March 2015 – only two months after being appointed as defense minister, he authorized the ongoing Saudi-led war against Yemen. Riyadh and its allies — including the United Arab Emirates — have sparked outrage by leading a war that has killed thousands of Yemeni civilians.
Riyadh invaded Yemen in a bid to reinstall the former Saudi-allied regime and eliminate the Houthi Ansarullah movement, but it has failed to reach any of those objectives.
The young prince also faces strong opposition at home and abroad for leading a siege on Qatar and having close ties with Israel.
Bin Salman has also created a great deal of animosity towards himself within the Al Saud family, many of whose members he has arrested as part of what he insists is a crackdown on corruption.