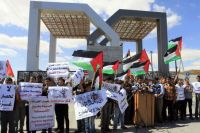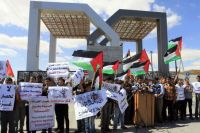 A Gaza-bound Egyptian convoy carrying humanitarian aid for the war-ravaged, besieged Palestinian enclave has been halted by the country's security forces in Sinai.
Activists travelling with the convoy on Saturday afternoon said the vehicles carrying humanitarian supplies to the people in the Israeli-blockaded territory had been stopped at a Sinai checkpoint by Egyptian forces and not allowed to pass due to alleged "security reasons," Ahram Online reported.
The development comes as Gaza is entering the twelfth day of an Israeli military onslaught that has left more than 312 Palestinians dead, including many women and children.
The report further cites Egyptian political activist Zizo Abdo as saying that the convoy was halted at Balooza checkpoint, the first military checkpoint in North Sinai.
Abdo also stated that the convoy consists of 11 buses and a medical convoy, totaling over 550 people including students, workers, and various political figures.
According to the report, if the convoy is allowed to pass through the checkpoint, it is set to pass through Sinai's al-Arish city, an already troubled area where Egyptian security forces are battling an anti-state militancy that has surged since the military ouster of the country's first freely elected President Mohamed Morsi in July 2013.
After al-Arish, the convoy will move directly to the Rafah border crossing.
Egypt's authorities have largely kept the critical border crossing for the besieged Palestinians living in Gaza shut over the past year, claiming security concerns over the surge of militancy in the Sinai region.