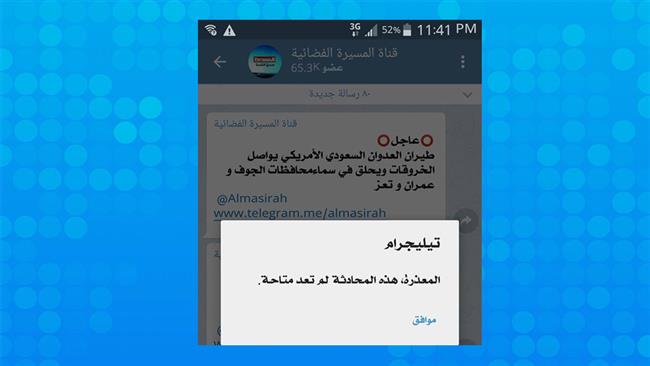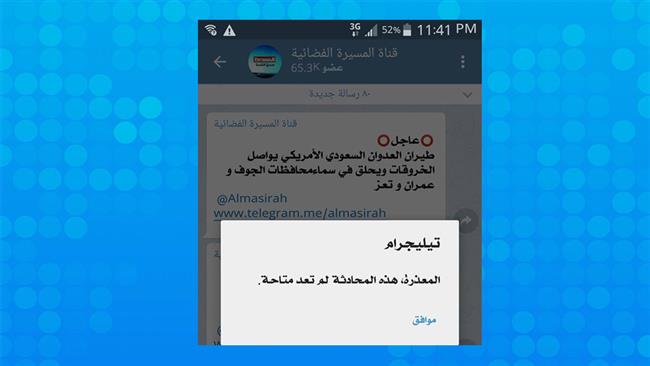 Telegram Company has reportedly prevented tens of thousands of people across the world from accessing the account of Yemen's Arabic-language al-Masirah satellite television network, without providing any explanations for the measure.
Clients of the cloud-based instant messaging service encountered "Sorry, this channel is no longer accessible" either on their mobile phone or computer screens early on Sunday, meaning that the company has deleted the channel's account.
There are reports that followers of al-Masirah Telegram account amounted to 65,000.
Directors at al-Masirah television network have condemned the move as "unethical and unwise."
They vowed to make their voices heard through other means of communication, and keep the international community informed about Saudi Arabia's atrocious military campaign against Yemen.
Despite Telegram's surprising move, al-Masirah can be received on Eutelsat 8 West satellite, frequency: 11637 MHz, vertical position, symbol rate: 27500, FEC ¾.
The channel also broadcasts on Express AM44, frequency: 11062 MHz, vertical polarization, symbol rate: 6500, FEC ¾.
Saudi Arabia launched its military aggression against Yemen on March 26, 2015, in a bid to bring former president, Abd Rabbuh Mansur Hadi, who is a staunch ally of Riyadh, back to power and undermine the Houthi Ansarullah movement.
More than 9,400 people have been killed and at least 16,000 others injured since the onset of the aggression.
The Saudi strikes have also taken a heavy toll on the country's facilities and infrastructure, destroying many hospitals, schools, and factories.