Palestine
Zionist settlers desecrate Al-Aqsa Mosque, Israeli police arrest Palestinian students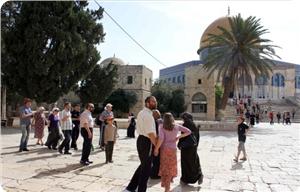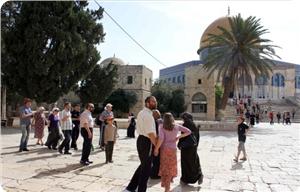 Dozens of zionist Israeli settlers stormed on Sunday morning the Aqsa Mosque from the Mughrabi Gate, guarded by Israeli policemen who arrested three students.
Eyewitnesses said that nearly 50 settlers stormed Al-Aqsa in the morning and performed Talmudic prayers at Bab al-Rahma.
They added that the Israeli police arrested three Palestinian students after expelling them outside the Mosque's courtyards.
Meanwhile, Minister of Endowments and Religious Affairs in Gaza Ismail Radwan called on the Palestinian people to defend the Aqsa Mosque, and urged the Arab and Islamic nations, the Arab League, the Organization of Islamic Cooperation and the international human rights organizations to stop the occupation's ongoing aggression on the Mosque and the Palestinian people.
Radwan's comments came on Sunday following the incursion into the Aqsa Mosque by the settlers under protection of the occupation police.
The minister warned that Al-Aqsa Mosque enters a critical phase in preparation for its demolition and the establishment of the alleged temple on its ruins.