Palestine
Middle East
Zionist settlers storm al-Aqsa Mosque on Jewish New Year
Dozens of Israeli settlers have stormed the al-Aqsa Mosque compound in the occupied East al-Quds while receiving protection from the regime's forces, as Jews celebrated their New Year, Rosh Hashanah.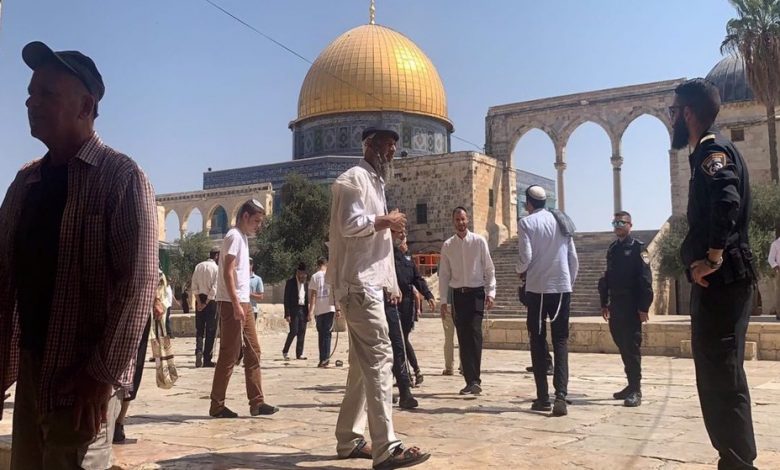 Palestine's official Wafa news agency quoted eyewitnesses as saying that the settlers stormed the al-Aqsa Mosque on Wednesday through the Moroccan Gate on the western side of the compound, which has been under the Israeli regime's control since the beginning of the occupation of East al-Quds and the West Bank in 1967.
The Israeli settlers then embarked on a provocative tour inside the compound before leaving through the Chain Gate.
Israeli right-wing groups have called for the storming of the al-Aqsa Mosque compound so as to increase Jewish presence there as Jews celebrated Rosh Hashanah from Monday until Wednesday.
The extremist right-wing groups openly call for turning the al-Aqsa Mosque into a Jewish worship area and tearing down the Islamic shrines in order to build a Jewish temple on the location.
Israeli settlers regularly storm the al-Aqsa compound, which they refer to as the Temple Mount, during religious holidays.
In July, Israeli settlers broke into the compound ahead of the Muslim feast of Eid al-Adha. Israeli forces also attacked Muslim worshipers, fired tear gas canisters at them and detained a number of them.
Back in May, repeated acts of violence against Palestinian worshipers at the al-Aqsa Mosque led to an 11-day war between Palestinian resistance groups in the besieged Gaza Strip and the Israeli regime, during which the regime killed at least 260 Palestinians, including 66 children.
Youth arrested for shouting 'God is Great'
Israeli settlers also broke into the al-Aqsa Mosque compound on Monday and Tuesday under the protection of Israeli forces, making a tour through the Moroccan Gate before leaving through the Chain Gate.
On Tuesday, Israeli forces arrested a young Palestinian man in the compound merely for shouting "Allahu Akbar" (God is Great), as Israeli settlers and forces stormed the holy site to conduct their provocative tour.
Fathi al-Jamal was arrested as large groups stormed the courtyards of the holy site and the Dome of the Rock mosque to carry out their tour in several phases, eyewitnesses said, the International Middle East Media Center (IMEMC) reported.
Under a longstanding guardianship agreement between Israel and Jordan, the latter retains custodianship over Christian and Muslim holy sites in al-Quds and prohibits non-Muslim worship at the site.
However, in defiance of the agreement, Israel allows its settlers to enter the site and carry out religious rituals.