Middle East
North America
Saudi Arabia
Zionist-US puppet Qatar opens largest naval base amid US-Saudi military drills
Qatar, which is home to the biggest US military base in the Middle East, has opened its own largest naval base amid ongoing tensions with Saudi Arabia, currently holding joint military drills with American forces.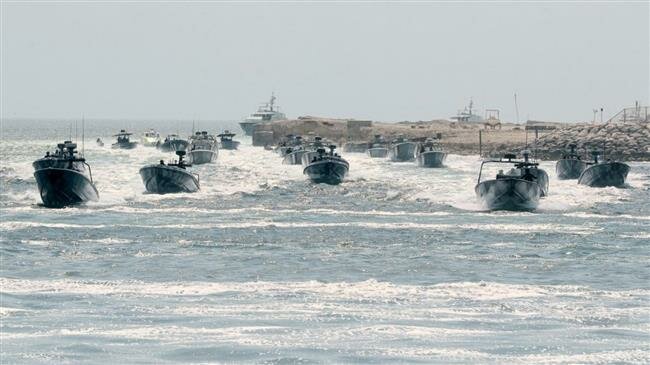 The al-Daayen coastguard base in Semaisima was inaugurated in a ceremony attended by Qatar's Prime Minister Abdullah bin Nasser bin Khalifa Al Thani and commander of US Naval Forces in the Middle East Vice Admiral Jim Malloy Sunday.
Qatar's interior ministry said in a tweet that the base, spread over 640,000 square meters, aims to "facilitate the securing of all territorial waters of the state and border posts."
The base, it said, includes a "sophisticated seaport", training and medical facilities, civil defense offices and operating rooms.
Malloy, commander of the US Fifth Fleet based in Bahrain, said the new base presented "a wonderful opportunity for us to interface more strongly with the Qatari coast guard."
Asked whether the base was going to be used against Iran, Malloy said the move was "all about maritime security, that's what our focus is".
Last month, the US Air Force deployed its F-22 Raptor stealth jet fighters to its military base in Qatar amid tensions in the strategic region following Washington's provocations against Tehran and Iran's downing of an intruding US spy drone near the Strait of Hormuz.
US deploys F-22 fighters to Qatar amid Iran rowUS military deploys state-of-the-art F-22 jet fighters to its air base in Qatar for the first time.
The Sunday ceremony also witnessed the launch of a new fleet of boats, including Hercules 150 types – which are 48 meters long and can stay at sea six days without refueling – and the Hercules 75 types, which are 24 meters long.
The base's inauguration comes amid a bitter row between Doha and a Riyadh-led coalition of regional Arab regimes.
Saudi Arabia, the United Arab Emirates, Bahrain and Egypt cut off diplomatic ties with Qatar on June 5, 2017, after officially accusing the country of "sponsoring terrorism." Doha denies the allegation.
Despite acting as mediator between Qatar and the quartet, the US is apparently benefiting from the rift.
Last week, Qatar agreed to buy "tremendous amounts of military equipment" and Boeing planes from the US following a visit by Qatari Emir Sheikh Tamim bin Hamad Al Thani to Washington.
"They are investing very heavily in our country," US President Donald Trump said.
Riyadh is also a big buyer of the American weapons.
During Trump's visit to Riyadh in May 2017, Saudi Arabia agreed to buy $110 billion worth of US weapons and signed "investment" deals worth billions more.
The arms sales to Riyadh, which has been carrying out a war of aggression against the impoverished people of Yemen since 2015, have caused fierce global outcry.
US House Speaker Nancy Pelosi said last month that Congress would block Trump's future arms sales to the kingdom.
"There will be a vote to remove any authority to make those sales to Saudi Arabia," Pelosi said during an interview with Fareed Zakaria hosted by the Council on Foreign Relations.
Saudi, US launch joint military drill
Also on Sunday, the Saudi Royal Land Forces and the US Army launched a military drill at the main exercise center at the King Khaled Military City in the kingdom's Northern Region.
General Saleh bin Ahmed al-Zahrani praised the participation of US forces in the Commander 2019 drill.
The exercise reportedly aims to develop and strengthen Saudi-American joint relations within the framework of plans and programs of the Saudi Royal Land Forces.