Asia-Pacific
Zionist-Wahhabi plot caused 100s of Muslim flee homes after Sri Lanka bombings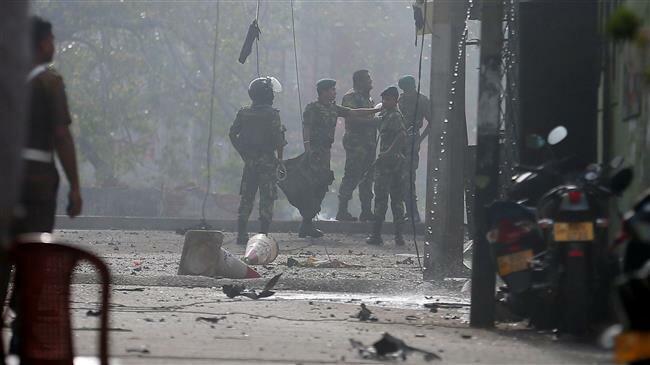 Hundreds of Muslim refugees have gathered in mosques and a police station in Sri Lanka, fearing harm after recent bombings although the country's Muslim community has categorically distanced itself from the perpetrators.
Since the Sunday terrorist attacks, some among local communities have begun targeting the Muslims, who have already fled to the eastern city of Negombo from persecution at their home countries, activists said on Thursday. Unknown people have raided the Muslims' houses before beating them and many landlords have ejected the refugees.
The attacks saw bombers targeting churches and luxury hotels in the capital Colombo and two other cities, killing at least 359 people and wounding some 500 others. The government has blamed a small group, known as the Nations Thawahid Jaman (NTJ), but the group has not claimed responsibility for the bombings.
"Today, these refugees have become refugees again in Sri Lanka. They have been displaced for a second time," said Ruki Fernando of Inform, a Sri Lankan human rights group, AFP reported.
He said around 700 refugees were believed to have sought shelter at one mosque in Negombo. Around 120 others were at a police station, while several hundred more were at another mosque located 25 kilometers from Negombo, he added.
Dozens got on buses to leave Negombo on Wednesday, but turned back after being advised against heading to Colombo over security fears.
"People are scared. They are in a vulnerable position and don't have basic facilities," Herman Kumar from Unity of Negombo Citizens, a group trying to foster communal harmony in the city, said.
Meanwhile, the leader of All Ceylon Jamiyyathul Ulama, the main umbrella body for Sri Lanka's Muslim clerics, told journalists that the country's Muslim community does not accept the bodies of the individuals who carried out the attacks.
"Those who committed this barbaric attack on innocent civilians do not belong to us and hence we categorically state that we will not accept their bodies," Rizwe Mufti said.
On Wednesday, Deputy Defense Minister Ruwan Wijewardene said Sri Lanka had failed to stop the bombings due to a "major lapse" in sharing of intelligence already available to authorities.