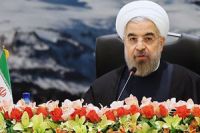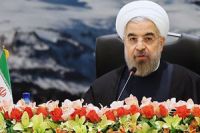 Iranian President, Hassan Rohani, has described the Zionist regime of Israel as a clear violator of international peace and security.
According to IRIB World Service, in a message issued on the international day of solidarity with the Palestinian people, President Rouhani said the Zionist regime has clearly endangered international peace and security without accepting any responsibility whatsoever. The same message was also read out at the UN general assembly in New York, by Iran's permanent representative to the United Nations, Mohammad Khazaie.
In his message president Rouhani said: "The occupation of Palestine during the past 65 years has turned into one of the most complex political and legal issues , at international level, and the Palestinian people have been deprived of their most basic and indisputable rights".
President Rouhani added: "The occupying Zionist regime has turned into a real international headache and a troublemaker, given the fact that it routinely ignores international laws, it regularly violates international treaties, conventions and norms, it has committed numerous war crimes over the years, and has carried out ethnic cleansing".
Elsewhere in his message President Rouhani emphasized that according to article 51 of the United Nations charter , which deals with the right of self-defense , the Palestinians are legally entitled to liberate their lands from foreign occupation, and they have the right to return to their homeland.