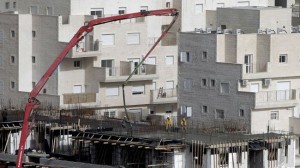 An Israeli minister has called for the construction of more settlement units in the occupied West Bank city of al-Khalil (Hebron).
On Thursday, Uri Ariel said that he backs "concrete plans for the construction of 100 (new) homes in Hevron."
"The land for this exists, and we're preparing the (building) project. We hope that during the coming year we can begin to build," he added.
This is while acting Palestinian Authority (PA) chief Mahmoud Abbas, at a meeting with European Council President Herman Van Rompuy in the Belgian capital of Brussels on Wednesday, called on Western companies to pull out of the settlements and put an end to their activities in the occupied West Bank.
"This call is directed against settlements that were established on the territories of the occupied State of Palestine and its capital, East al-Quds, after 1967," he stated.
More than half a million Israelis live in over 120 illegal settlements built since Israel's occupation of the Palestinian territories of the West Bank and East al-Quds in 1967.
The United Nations and most countries regard the Israeli settlements as illegal because the territories were captured by Israel in a war in 1967 and are thus subject to the Geneva Conventions, which forbids construction on occupied lands.