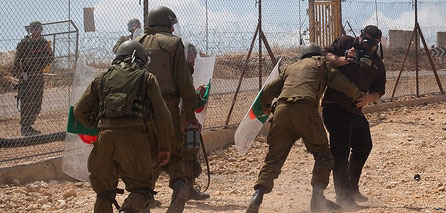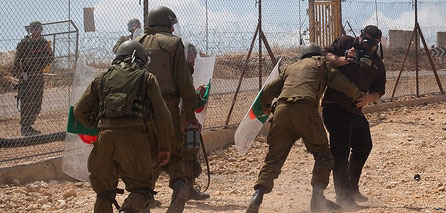 The Palestinian center for development and media freedoms (Mada) reported Tuesday that the Israeli occupation forces (IOF) last June used journalists as human shields during their attack on a peaceful anti-wall march in a village in northern West Bank.
Mada center stated in its report that the IOF troops continued their violations against journalists in the occupied Palestinian lands during this month and used some of them as human shields as happened with the cameraman of Palestine satellite channel while he was covering the weekly Bil'in march.
The report added that the IOF troops also physically assaulted a number of journalists and cameramen working for different media outlets during their attempts to cover the violations committed by Israeli troops and settlers against the Palestinians.
The center expressed concern over Israeli occupation's incitement campaign against Al-Jazeera satellite channel and condemned the French broadcasting authority for ordering the France-based satellite provider Eutelsat not to air Al-Aqsa channel.