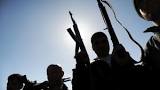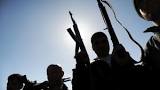 Today, and at the morning rush hour when streets teem with employees, "FSA" targeted the Municipality of Aleppo with three shells – called (Hell Artillery) by the militia – that slammed directly into the building and caused massive material damage.
Sources told Arabi Press that the attack claimed the lives of 4 civilians as it injured around 10 others, some of them with serious wounds. The attack was shortly adopted by the Battalion of "Zu al-Nourein."
In a separate context, a female child was maryterd after mortar shells landed along Maizar St. located in al-Iza'aa area, which is an adjascent area to Saif al-Dawla neighborhood.
Today evening, more mortar shells landed in areas like al-Aziziah, Baghydad Station causing deaths, injuries and material damage.
It is noteworthy that the ares of New Aleppo, al-Sahahbaa, al-Aziziah, al-Sulaimaniah, al-Jamiliah, al-Ashrafiah, al-Sirian, Baghdad Station and the Pullman Garages were targeted by the so-called shells "Hell Artillery" and other kinds of missiles.