Iran
North America
​​​​​​​Rouhani calls for unity and resistance in face of 'US war on hope' and sanctions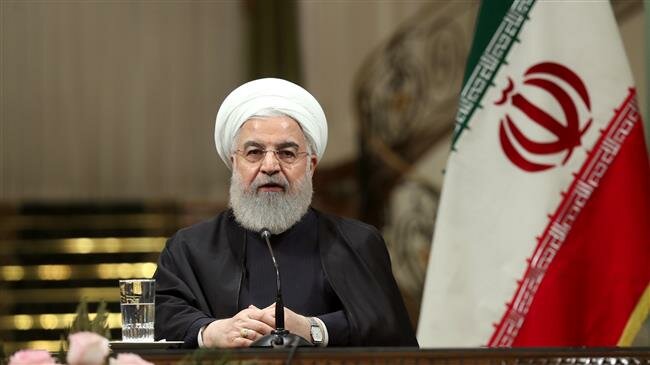 Iranian President Hassan Rouhani has called for "unity and resistance" in the country in the face of US sanctions targeting Iran in what he described as a "war on hope".
"Our war today is the war on hope. They want to break our hope, and we have to break their hope" of defeating Iran, said Rouhani in a live televised speech on Saturday.
The president said US sanctions on Iran sought to sow discord in the country and weaken national unity.
"America will only let go of this game when it realizes it cannot achieve anything. We have no way but to resist and unite," he said.
Rouhani explained that the US sought to weaken Iran's independence and sovereignty by targeting the country's economy.
"America is trying to decrease our oil and non oil-related income. We have counter this scheme and specifically the bid to stop Iran's oil exports by stepping up production and the exportation of Iranian products, along with storing and selling petrochemical products," he said.
"We have to increase our hard currency income and cut our currency expenditures," Rouhani added.
Rouhani has vowed the country will continue to supply oil to its major customers despite Washington's measures.
President Donald Trump withdrew the US in May 2018 from a multilateral nuclear accord, officially known as the Joint Comprehensive Plan of Action (JCPOA), which was reached between Iran and six world powers in 2015. Afterwards, Washington reimposed unilateral sanctions on Iran that had been lifted under the deal.
Last November, the US enforced sanctions targeting the Islamic Republic's banking and energy sector. However, it granted waivers to eight major importers of Iran's oil, including China, India, Japan, South Korea, Taiwan, Turkey, Italy and Greece, fearing market instability.
The US announced last month that it would not renew waivers that allowed Tehran's eight largest customers to purchase its oil. The exemptions expired on May 1.