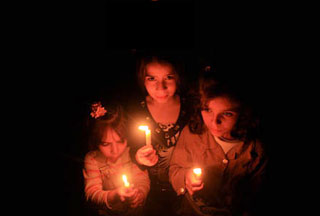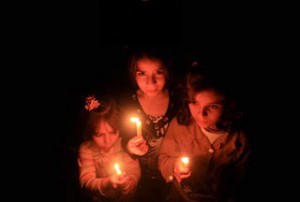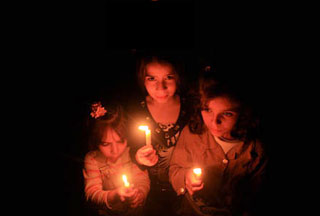 Palestinians in the Gaza strip have lit 1,000 candles and held a peaceful protest near the Erez (Beit Hanoun) border crossing in order to mark 1000 days of Israeli siege and blockade of the coastal enclaves.
"The siege has harmed the people, as well as the environment, health, the economy and social life. It constitutes a serious attempt to suffocate the people and break their will. A thousand days of the blockade on Gaza, however, show its residents' steadfastness and patience despite the Israeli repeated attempts to undermine this determination," Head of the Popular Committee against the Siege on Gaza, Jamal al-Khodari, said on Thursday.
Al-Khodari added that the committee will continue its peaceful activities and protests in order to save the lives of Palestinians living under the deadly Israeli siege on Gaza.
Israel has continued to close all border crossings to the Gaza Strip for more than two years. The illegal Israeli-imposed blockade on the Gaza Strip, which has steadily tightened since 2007, has had a disastrous impact on the humanitarian and economic situation in the coastal enclave.
Some 1.5 million people are being denied their basic rights, including the freedom of movement and the rights to appropriate living conditions, work, health and education.
Poverty and unemployment rates stand at approximately 80% and 60% respectively in the Gaza Strip.
Three weeks of Israeli air strikes and a ground incursion into Gaza between Late December 2008 and early January 2009 resulted in the death of over 1,400 Palestinians and the injury of about 5,450 people in the Gaza Strip. Most of the victims were civilians.
The carnage also inflicted more than $1.6 billion of damage on Gaza's economy.