North America
1000s Attend Funeral of 3 Muslims Shot in Chapel Hill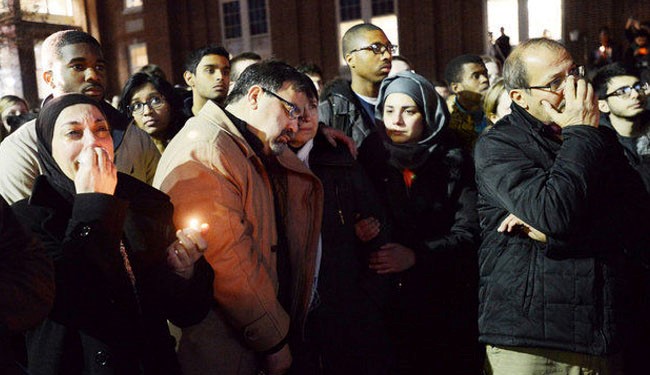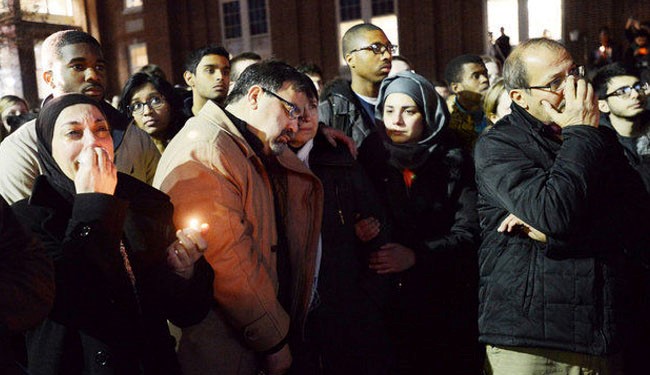 Thousands of people in the United States have attended the funeral of three Muslim students shot dead by a middle-aged white man in North Carolina, demanding the deadly incident be investigated as a "hate crime".
More than 5,500 people gathered on Thursday afternoon on a soccer field for the funeral of Deah Shaddy Barakat, 23, his wife Yusor Mohammad Abu-Salha, 21, and her sister, Razan Mohammad Abu-Salha, 19, near the University of North Carolina at Chapel Hill campus killed in a brutal attack on Tuesday.
"It was the biggest funeral I've ever been to," said Nisrin Shabin. "They kept coming, it was magical."
At least 3,000 people attended a candlelit vigil on Wednesday night for the slain students at the University of North Carolina, called "gems of their communities" by their family members.
Families of the three, who were shot in the head by Craig Stephen Hicks, 46, said they were executed for their religion rather than being simply targeted by a criminal.
The father of the two female students shot dead told the crowd they were victims of a hate crime and his pain was indescribable. Mohammad Abu-Salha demanded that investigators treat the killing as a hate crime.
"I've talked to police, I've talked to lawyers," he said, his voice choking with grief. "This has 'hate-crime' written all over it."
Police say initial probes suggest the deadly attack stemmed from a dispute over parking space, but have not ruled out the possibility that hatred of Muslims had motivated the shooter.
A local attorney and a close friend of the male victim of Tuesday's triple murder earlier said the parking lot story is just a fabrication of lies. "You don't kill three people over a parking space."
At the funeral, Sarah, who grew up with Deah and Yusor and Razan, said she has experienced Islamophobia. "You have to have a lot of hate in your heart to kill three people in cold blood, and over a parking spot, it's ridiculous to say this was just that."
According to reports, all three students were high achievers who regularly volunteered for charity work in the area.