World News
1000s evacuated after fire, blasts at Sri Lankan army camp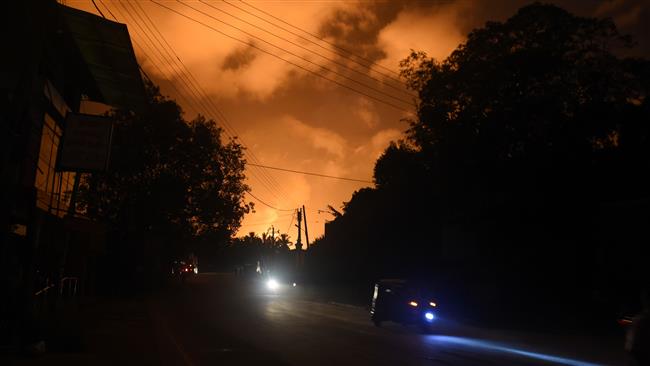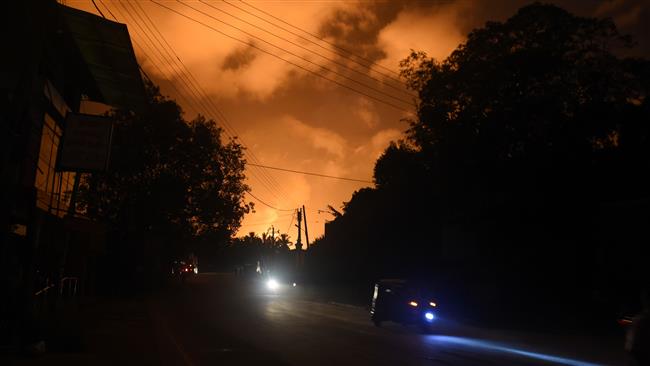 Thousands of people have been evacuated from areas near Sri Lanka's capital, Colombo, where a fire at an ammunition depot has caused a series of explosions.
Residents living within six kilometers (3.75 miles) from the Salawa military complex, located 33 kilometers (20 miles) east of Colombo, were ordered to leave their homes and move to schools and temples as a safety precaution.
The army announced on Monday that the ammunition depot blaze had been extinguished after burning for around 12 hours.
"The fire has been put out, but still there are intermittent explosions. That is why we are asking residents to keep away," army spokesman Jayanath Jayaweera said.
Businessman Neville Nishantha said he fled with his wife and three children as the ammunition depot started exploding. He returned on Monday morning to see his house devastated.
"A mortar bomb had gone through my roof and hit the living room," the 44-year-old Nishantha said.
He added, "A wall collapsed in the bedroom where my three children would have slept. We are lucky to have escaped. All of us started running as the explosions began."
Government spokesman Rajitha Senaratne said the National Security Council would convene on Monday to discuss the fire and ensuing explosions.
"This is a military matter and they must investigate if this was an accident or sabotage," Senaratne, who also serves as the health minister, said.
Law and Order Minister Sagala Ratnayake said police's Criminal Investigation Department (CID) had also been urged to launch a probe into the cause of the incident.
"Our priority is to save lives. But, we have already asked the CID to investigate," Ratnayake said.
He said the fire quickly spread to two ammunition depots within the military complex, and firefighters together with emergency responders had difficulty reaching the site due to the intensity of the explosions.
Police sources said at least one soldier was burnt to death, seven more people sustained injuries and about 40 residents were treated for smoke inhalation.
Sri Lanka's military has been storing its weapons and ammunition in a number of armories across the country ever since the 26-year war against separatist Tamil Tiger rebels ended in May 2009.
Several soldiers were left injured in June 2009 when an army ammunition storage facility caught fire in the northern district of Vavuniya, which lies 250 kilometers (155 miles) north of Colombo.